President Biden offers condolences to tornado storm victims, promises review of climate impacts
Officials believe the death toll could top 100
WILMINGTON, Del. -- President Joe Biden pledged the federal government's full support for the victims of the tornado outbreak and said agencies would also look into the root causes of extreme weather.
President Biden addressed the media Saturday from Delaware, where he said he received updates and talked to officials in the hard-hit areas of the heartland, where dozens of reported tornadoes left behind damage. 
At the request of Kentucky's governor, the President signed a federal emergency disaster declaration for the Bluegrass State, which directs the Department of Homeland Security and the Federal Emergency Management Agency to coordinate a response with hard-hit areas.
"Our citizens are badly, badly hurt, and they're scared to death right now in terms of all those folks who they can't figure where they are. Where's my son? Where's my daughter, my husband, my wife, my mom, my dad? It's devastating," Biden said. 
Texas Gov. Greg Abbott said he would activate 10 Texas A&M Task Force 1 personnel to deploy the Central Incident Support Team cache, which is part of the FEMA Urban Search and Rescue System, in response to the tornadoes.
During the news conference, President Biden pledged that the U.S. Environmental Protection Agency would look into the causes of what triggers the extreme weather events.
"The intensity of the weather across the board has some impacts as a consequence of the warming on the planet and the climate change. The specific impact on these specific storms, I can't say at this point. I'm going to be asking the EPA and others to take a look at that," Biden said.
President Biden believed in the days ahead, a larger conversation would be had surrounding adequate weather warnings and whether residents in hard hit areas had enough of an alert before the tornadoes impacted the region.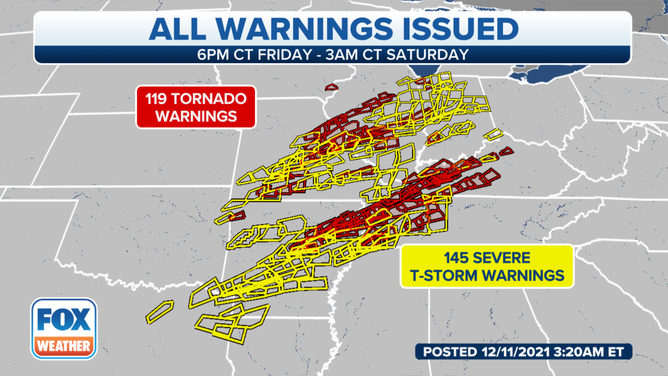 AT LEAST 70 DEAD AFTER 'MOST SEVERE TORNADO EVENT' IN KETUCKY'S HISTORY GOVERNOR SAYS
National Weather Service meteorologists issued 146 Tornado Warnings and nearly 200 Severe Thunderstorms Warnings during the outbreak.
Despite the numerous warnings, Kentucky Governor Andy Beshear warned that the damage and the casualty count would be 'indescribable.'