Power outages possible as autumn-like storm takes aim at Pacific Northwest
Gusts up to 50-60 mph are likely in parts of northwestern Washington while heavy rains will help squash the dozens of wildfires stubbornly burning since the middle of summer.
SEATTLE -- Autumn doesn't officially begin until Wednesday afternoon, but those in the Pacific Northwest are starting it a bit early with the first potent storm of the season heading into the region this weekend.
The storm is expected to bring heavy rains to the parched region, with strong winds gusting as high as 50-60 mph likely in the far northern edges near the Canadian border. Wind Advisories are posted in the region for much of Friday.  Gusts in the greater Seattle and Portland areas are expected to reach 25-40 mph. 
Enjoy today's warmth and dryness! Rain moves in Fri morning to SWrn WA/NWrn OR coasts, into Portland-area Fri evening, near Eugene/central Cascades early Sat morning. 
🌧️Heaviest rain = Sat early morning. 
❄️Snow levels down to 6kft by Sun.
🌬️Strong coastal winds Fri.#orwx#wawx pic.twitter.com/bjKbekgm5G

— NWS Portland (@NWSPortland) September 16, 2021
The first wind event of the autumn season in the Northwest tends to trigger a greater number of power outages than subsequent storms of similar strength. The region has just come off months of the dry summer season when some trees and branches will die, but not yet have been blown free. 
Thus, during the first strong gusts, the region will see widespread tree branches into power lines, or dead trees being toppled. Most deciduous trees have yet to lose their foliage and that too makes trees more susceptible to wind damage.  And this summer in particular may see more dead vegetation from the historic heat wave in late June waiting to break free.
Rainfall amounts are expected to top an inch across the greater Seattle and Portland areas and could exceed two inches, with even higher amounts in the Cascades and Olympic Mountains. 
Let's start with rain...most areas will receive between 1-2", with higher amounts possible along the coast and in the mountains. Rainfall will be heavy at times. Expect decreases in visibility & sharp rises on rivers (no flooding expected). Take your time on the roads. 2/4 #wawx pic.twitter.com/LlCkIANfxc

— NWS Seattle (@NWSSeattle) September 15, 2021
Eastern Oregon and Washington are also getting a bounty of rain with between 0.50 and 1.00 inches expected through the weekend. 
While widespread flooding risk is minimal there, forecasters in Oregon are warning that the heavy rains may trigger debris flows in recently burned areas from wildfires over the past two summers. 
Aside from the rain and wind, thunderstorms are possible Saturday afternoon and evening, with snow levels dropping to around 6,500 feet by late in the weekend, making for some of the first snowfall in the higher elevations of the Cascades. 
Boon for firefighters across the Northwest
The drenching rains will be a welcome sight for firefighters across the Northwest. 
Dozens of fires continue to burn across Northern California, Oregon, Washington, Idaho and Montana.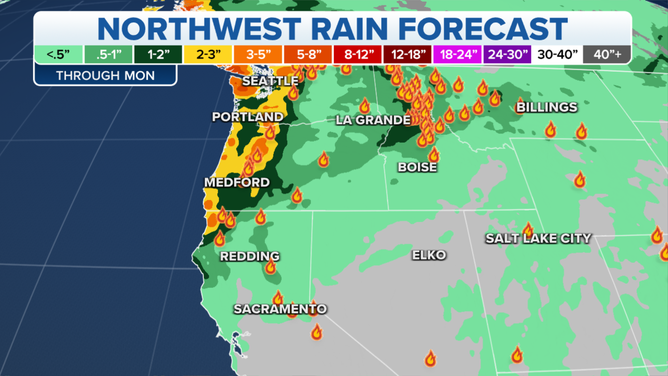 While Washington, Oregon and Northern California will get the bulk of the rain Friday and Saturday, the storm system will push into the Inland Northwest on Sunday, spreading more rainfall as it does so.
Northern Idaho and western Montana are expecting up to an inch of rain themselves. 
The entire Pacific Northwest remains in some form of drought, with many areas considered experiencing extreme or exceptional drought conditions.