More dangerous fire weather for Southwest before conditions ease Friday
Widespread critical fire weather conditions have been posted across the Colorado Front Range to eastern New Mexico on Thursday
Gusty winds and low relative humidity will make for another day of dangerous fire weather conditions over the central and southern High Plains before conditions ease on Friday.
Widespread critical fire weather conditions have been posted across the Colorado Front Range to eastern New Mexico on Thursday. NOAA's Storm Prediction Center estimates over 4.3 million people are at critical risk, including those that live in Denver, Colorado Springs, Aurora, Lakewood and Thornton in Colorado.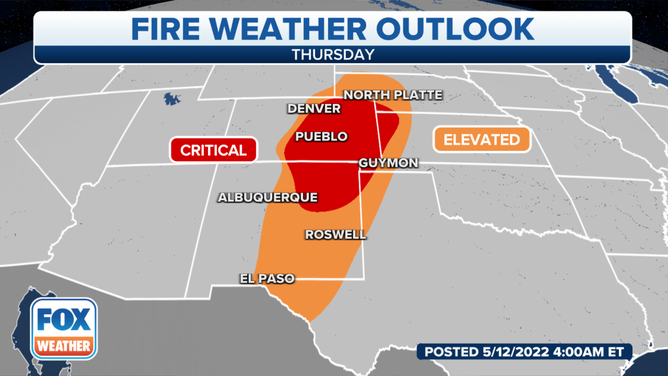 Relative humidity values are forecast to be under 5% with winds gusting to 40 to 50 mph, the National Weather Service in Pueblo, Colorado, said. Even stronger gusts are expected in the mountains.
Fire weather concerns will become less widespread from Friday into early next week. However, the well-above-average temperatures will still continue next week.
HOW TO WATCH FOX WEATHER ON TV
The NWS in Albuquerque, New Mexico, said a Pacific cold front will sweep into western and central New Mexico on Thursday, leading to cooler temperatures in that part of the state. High winds will be focused in the eastern half of the state, where occasional gusts of 35 to 45 mph will be possible. Uncomfortably low humidity is also expected by the afternoon hours.
Last month was the second-driest April on record since 1895 for New Mexico, the NWS said. It was also the 11th-warmest April on record.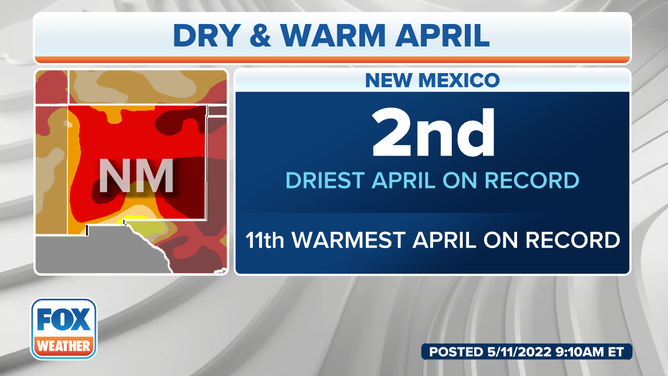 CLICK HERE TO GET THE FOX WEATHER UPDATE PODCAST
In addition to potentially spreading new fires, the current conditions will seriously hamper the ongoing fight against the numerous fires already burning. Any residents near the Hermit's Peak/Calf Canyon Fire, Cerro Pelado Fire and Bear Trap Fire need to be ready to go if evacuation orders are made.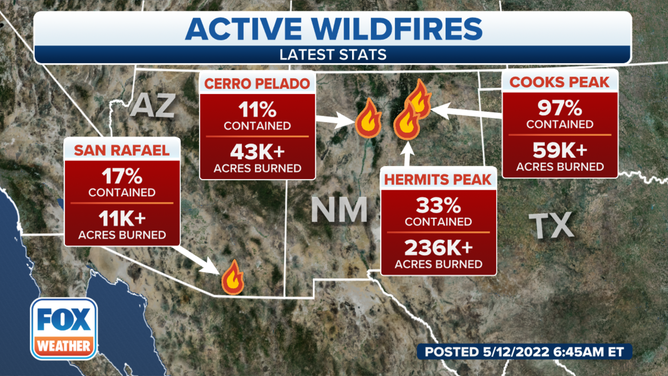 Be sure to download the FOX Weather app for the latest forecast and weather alerts for your exact location, plus the 24/7 livestream of America's Weather Team.