6 possible tornadoes leave behind damage in Ohio, Pennsylvania
Six tornadoes were reported following a line of severe thunderstorms that triggered numerous Tornado Warnings in Ohio and Pennsylvania
CLEVELAND – Several possible tornadoes were reported across Ohio and Pennsylvania on Thursday, leaving some homes damaged and power lines down. 
A total of 35 severe weather reports, including six tornado reports, followed after a line of severe thunderstorms triggered numerous Tornado Warnings in the region.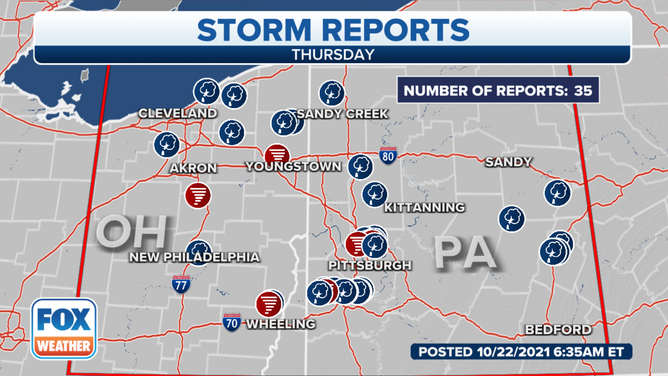 Emergency officials in various counties worked into the night assessing the damage from six reported tornadoes. Survey teams will be out Friday to look at areas of damage and determine how strong and how many tornadoes touched down.
The National Weather Service office in Cleveland issued 11 Tornado Warnings in northeastern Ohio on Thursday, the most issued for a single day or event going back to 2005.
The NWS said a picture of a tornado crossing Lake O Springs was reported at 4:12 p.m. in North Canton, Ohio. Tornadic debris activity was also visible on radar near the area.
A second possible tornado was reported at 5:07 p.m. near Route 102 in a field near Mount Pleasant, Ohio. Power lines and trees were down as well.
An emergency manager and law enforcement reported a visual confirmation of a tornado at 5:07 p.m. in Mineral Ridge, Ohio.
Homes were damaged at 6:45 p.m. in a neighborhood near Buffalo, Pennsylvania, after another possible tornado was reported.
A spotter reported a weak, rain-wrapped tornado crossing Interstate 279 south of mile marker 11 at 6:42 p.m. in Mount Nebo, Pennsylvania.
A roof was blown off home in Hampton Township at 6:40 p.m. in Allison Park, Pennsylvania. The American Red Cross of Greater Pennsylvania said they were responding to multiple requests for assistance in the area. Due to a power outage, Wyland Elementary School will be closed Friday. All other schools in the district will be open.
The severe weather threat will continue to march eastward with the cold front. Areas in the Carolinas could see an isolated severe storm on Friday, with damaging wind gusts being the main threat. A few pop-up storms are also likely in Florida, but most should stay below severe criteria.