Peak of hurricane season arrives as forecasters watch 4 systems
Hurricane Larry, Hurricane Olaf and 2 other systems being monitored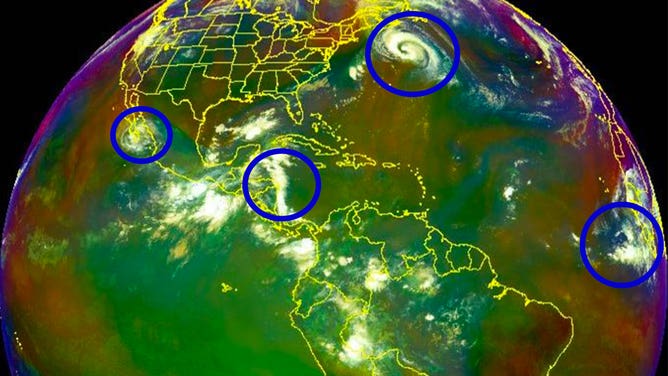 Friday marks the climatological peak of the Atlantic hurricane season, and forecasters have three systems there to keep them busy.
Forecasters are also watching a hurricane in the Pacific that is affecting a popular tourist destination.
Here's a closer look at each of the systems being monitored Friday.
Hurricane Larry
Larry has weakened to a Category 1 hurricane as it continues its march north toward Canada. Hurricane and tropical storm warnings are up for the eastern coast of Newfoundland, where Larry is expected to make landfall late Friday or early Saturday.
The forecast calls for Larry to become post-tropical by Saturday afternoon as the storm races toward Greenland, where it is expected to be the catalyst for more than a foot of snow in some places.
2 tropical waves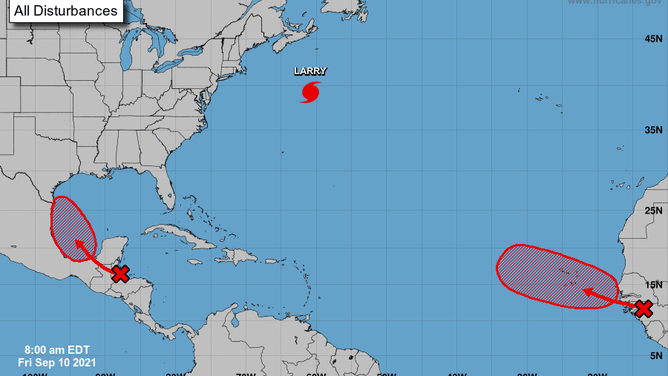 Forecasters are keeping a close eye on two tropical waves, each on opposite sides of the Atlantic.
The first is located off the coast of Central America and has a 70% chance of development within the next five days as it moves across the Yucatan Peninsula and into the southern Gulf of Mexico. Models are suggesting that this system could produce significant rainfall along the Texas coast early next week.
The second is emerging in the Atlantic from Africa. It also has a 70% chance of development within the next five days as it moves over the Cape Verde Islands. Models are unclear as to what will happen with this one.
Hurricane Olaf
The other hurricane forecasters are watching is in the Pacific. Hurricane Olaf is a Category 1 storm located on the southern coast of Mexico's Baja Peninsula. It has brought gusty winds, heavy rains and rough surf to the popular tourist destination Cabo San Lucas. Up to 10 inches of rain is expected across much of the area, with some places getting up to 15 inches.
It's worth noting that the climatological peak of the Eastern Pacific hurricane season is in late August.