Parts of Sequoia National Park reopen as wildfire battle continues
Park is home to some of the world's oldest trees
SEQUOIA NATIONAL PARK, Calif. – After a long summer of threats from wildfires prompted closures of Sequoia National Park, portions of the park have reopened.
Much of the park, which is home to some of the oldest trees in the world, has been closed since lightning strikes started two fires in September. Those two fires would later merge and become the KNP Complex Fire.
LESSONS FROM PAST WILDFIRES GIVE HOPE TO SAVING WORLD'S LARGEST TREES
As of Nov. 12, the Foothills area of the park is open for use during the day, and the following areas have reopened:
Foothills Visitor Center
Sequoia Parks Conservancy Park Store
Foothills Picnic Area
Tunnel Rock
Potwisha Day Use Area
Hospital Rock and Hospital Rock Picnic Area
Middle Fork Trail
Neighboring Kings Canyon National Park has also been closed for much of the summer. Sections of that park have reopened, as well.
More information about the reopening and restrictions that are in place can be found at nps.gov/seki.
During the summer, images of foil blankets being wrapped around the 36-foot base of the world's largest tree – the General Sherman – circulated on social media. The 2,200-year-old tree was unscathed by the fire.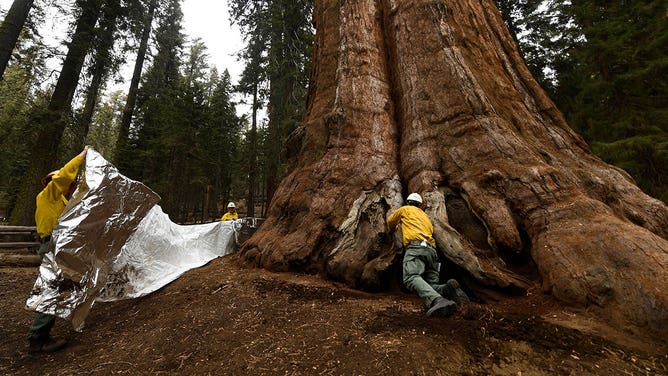 Officials said the KNP Complex Fire has consumed more than 88,000 acres and is 75% contained.