Members gather for Palm Sunday service in Georgia after severe storms damage church
MACON, Ga. – A church community in Georgia is rebuilding after their 8,000 lb steeple toppled over during last week's severe storms.
As Holy Week began, members of the Northminster Presbyterian Church in Macon gathered for Palm Sunday service next to the damaged building in the parking lot.
Pieces of the steeple are still being removed, and the church does not have power, so they cannot hold services inside.
"Are we not thankful that no one was hurt in the making of this mess," Pastor Ralph Hawkins asks as he points to what's left of the steeple beside them.

Crews began rebuilding after the storms tore down the steeple and damaged the roof.
"Are we not grateful that roofs and towers can be repaired and steeples rebuilt?" Pastor Hawkins asked. Hawkins reminded everyone that you don't need a big fancy sanctuary to worship; gathering as a congregation to worship is all you need.
"I think it's a call to simplicity," Pastor Hawkins said. "Just to trust in God, to come together as communities and not let life get too complicated, or church too complicated."
Another thing that was damaged this week was the cross on top of the steeple.
FOX Weather's Will Nunley says that pieces of the cross were scattered around the neighborhood, but crews were able to find all the pieces and solder them back together in time for the service.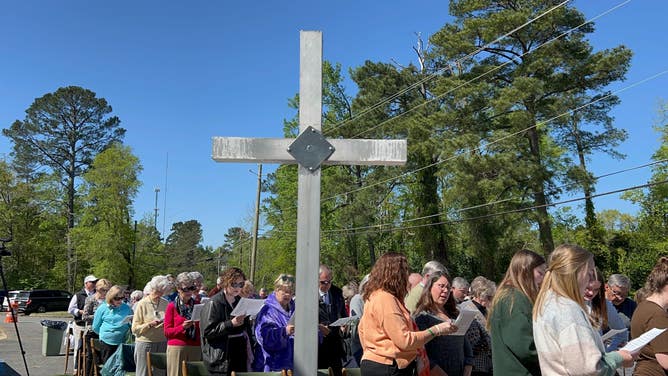 "They presented it to the church here this morning. It was just unveiled a few moments ago," Nunley said. "I thought it's a very sweet gesture here on a very emotional morning for a lot of these congregants."
Knowing that it'll take time to rebuild, Pastor Hawkins says that the message remains simple.
"We get to practice that simple kind of community that we are all called, and God provides," he said.