October 2021 was Earth's fourth-warmest October on record
North America had its second-warmest October on record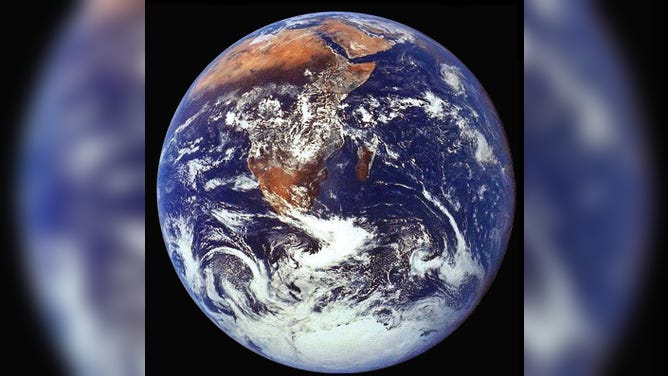 October 2021 was the fourth-warmest October on record for Earth, according to information released by the National Oceanic and Atmospheric Administration this week.
NOAA's National Centers for Environmental Information released their monthly global climate summary "Assessing the Global Climate 2021" on Wednesday. 
Scientists said October 2021 came in fourth behind the Octobers in 2015, 2018 and 2019. Northern Hemisphere land areas broke the October record that goes back 142 years, and the global average surface temperature from January through October ranks sixth-highest on record.
According to the report, 2021 is trending toward being one of the 10 warmest years on record for the globe.
"Based on current anomalies and historical global average temperature readings, it appears that it is virtually certain that 2021 will be a top ten year," scientists wrote. 
October was 1.6 degrees warmer than the 20th century average of 57.2 degrees and marks the 442nd month in a row above the average.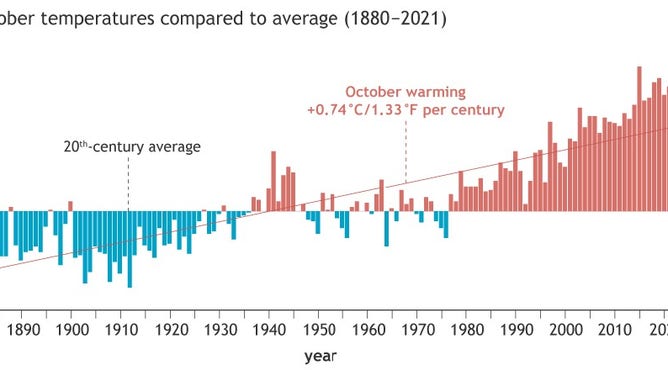 Other statistics about October 2021 in the report include:
It was the second-warmest October for North America.
It was the third-warmest October for South America.
The fourth-smallest Antarctic sea ice extent (records go back to 1978) was seen during the month.
It was the sixth-warmest October for the contiguous U.S. (records go back 127 years).
It was the seventh-warmest October for Africa.
It tied for the eighth-smallest Arctic sea ice extent during October (records go back to 1979).
It was the twelfth-warmest October for Asia.
The findings did show cooler than average temperatures across tropical islands in the Pacific Ocean, which scientists said were due to the La Niña pattern. Oceania (Australia and New Zealand) was above average, but this October was the coolest since 2016.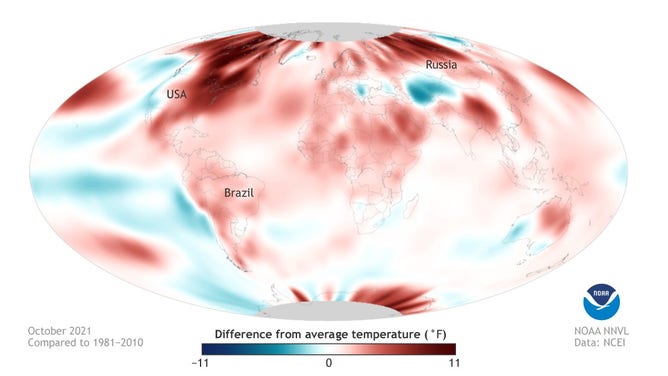 NASA describes the global temperature record as an average temperature of the entire surface of the planet which depends on how much energy it gets from the sun and how much Earth radiates back into space. 
EARTHSHINE: HOW WE MEASURE ONE OF THE LEAST UNDERSTOOD CLIMATE PARAMETERS
To calculate the Earth's average surface temperature NASA and NOAA record land and sea surface temperatures from over 6,300 weather stations, ship and buoy reports and Antarctic research stations. Computer models then extrapolate temperatures for areas with no reports and determine the average temperature.