Northern Plains continue to experience dangerously cold temperatures
Wind chill as low as -50 in parts of Montana, North Dakota
Wind chill alerts remain in effect across the Northern Plains as the coldest air of the season settles across the region.
The National Weather Service says daily low temperatures have fallen to -20 in parts of Montana and North Dakota. Those temperatures combined with gusty winds will cause the wind chill values to plummet to as low as -50 degrees Tuesday morning.
Officials in those regions are urging residents to take action to prepare property and livestock for the frigid temperatures.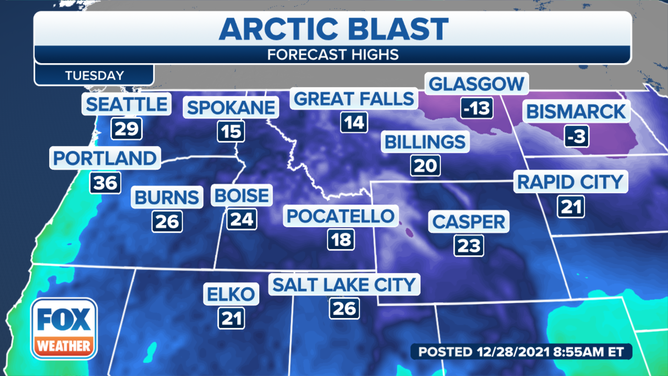 Even daytime high temperatures in the region will struggle to get above zero.
Bismarck, North Dakota will likely stay below zero on Tuesday. A high temperature of -3 degrees is forecast. Glasgow, Montana, will be even colder. Temperatures there are expected to be around -13 degrees.
While not as cold as North Dakota and Montana, more frigid air will be felt across the western United States.
Seattle reached only 23 degrees on Monday, which was their coldest day since 1998, while farther east in Spokane, temperatures only made it to 16 degrees. And Tuesday is likely going to be another cold day for those cities. Seattle is expected to only be around 30 degrees, while Spokane will make it to about 15 degrees.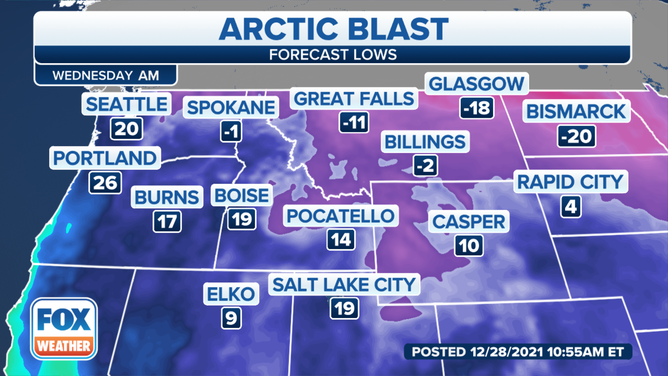 As we head into Wednesday morning, the region will get even colder.
Forecast lows for the Northern Plains range from -20 degrees in Bismarck, North Dakota, to -11 degrees in Great Falls, Montana.
Spokane will also likely stay below zero Wednesday morning, while Seattle and Portland will be in the 20s.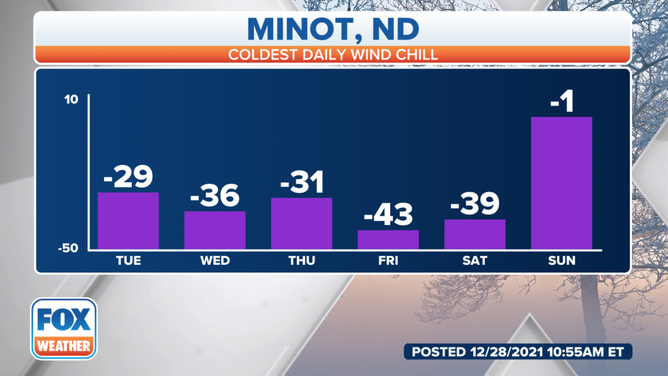 And check out the daily wind chill values expected in Minot, North Dakota this week.
A wind chill value of -29 degrees is possible Tuesday, while Wednesday could see values of -36 degrees. Some relief is possible Thursday as wind chills could drop to -31 degrees.
Then comes Friday and Saturday.
The region could see wind chill values of -43 degrees when we say farewell to 2021 and -39 degrees when we say hello to 2022 on Saturday.
More relief is expected Sunday when wind chills could rise significantly to -1 degree.