Power to be out for days after 'bomb cyclone' wallops New England
The nor'easter's rapidly strengthening off the coast of
The nor'easter that brought heavy rain and damaging winds to parts of the Northeast is slowly moving away but not soon enough for residents from New Jersey to Massachusetts, who are dealing with the aftermath.

Poweroutage.us reported more than 500,000 customers from New Jersey to Massachusets were without power on Wednesday evening and emergency managers warned restoration efforts could last several days.
The system officially reached "bomb cyclone" status off the coast of New England on Wednesday and produced hurricane force wind gusts in Massachusetts.

The highest gust was clocked at 94 mph on Martha's Vineyard, at the Chappy Ferry dock in Edgartown, at 4:31 a.m. Wednesday morning.
Rain across eastern New England is expected to taper off into Thursday morning, but several rivers remain elevated in the region.
The risk for additional flash flooding is low, but more than 100 river gauges in the Northeast are currently at or near flood stage following Tuesday's heavy rainfall. Many places from central New York to northeastern Pennsylvania and northern New Jersey received between 3 and 5 inches of rain.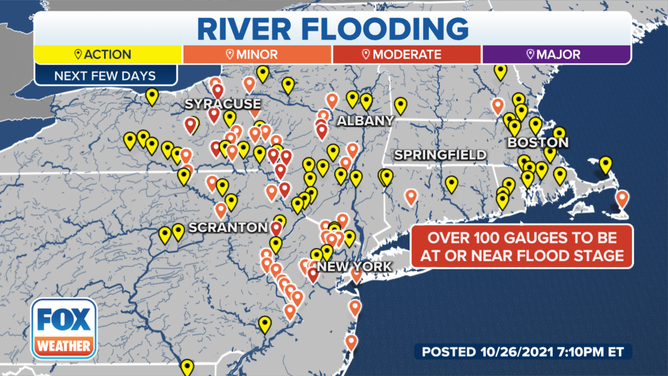 It's not out of the question this nor'easter could acquire some tropical or subtropical characteristics as it continues to eastward away from the New England coast.
HERE'S WHY THE ATLANTIC HURRICANE SEASON RUNS FROM JUNE TO NOVEMBER
The National Hurricane Center has given the system around 30% chance of development during the next five days. If it becomes a named storm, it would earn the final name on this year's naming list for the Atlantic: Wanda.