Nightmare drive across central Illinois: Massive pile-ups close highways
"The highway here is a sheet of ice and the winds are so high they are just pushing trucks off the highway," said a storm chaser.
The winter storm that produced several inches of snow is being blamed for causing multiple crashes across Illinois.

Illinois State Police said they closed Interstate 55 southbound for miles after about 100 vehicles, trucks and passenger cars, piled up on icy pavement.
7 THINGS YOU NEED TO KNOW ABOUT WINTER DRIVING
"The highway is a sheet of ice," said storm chaser Simon Brewer who took the video. "The winds here in this area are so high they are just pushing trucks off the highway."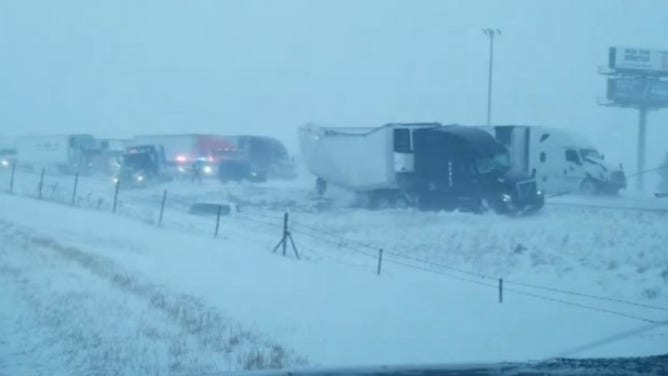 He counted 50 smashed tractor trailers and cars just in Towanda. "And the vehicles go on for as far as the eye can see in both directions," Brewer said. 
As of Thursday evening, 8.3 inches of snow fell on Towanda.
Another 75-100 vehicle crash closed Interstate 39 northbound in Hudson, Illinois. Nearby Normal measured 9.5 inches of snow.
Drivers in Kappa, stuck in the back-up, posted pictures of the gridlock.

"Only travel in an emergency," Tweeted the Illinois State Police and Department of Transportation. They closed southbound Interstate 57 near Champaign due to multiple injury accidents blocking all lanes. Officials said the road will be closed for several hours.
TRAVELING THIS WINTER? HERE'S WHAT TO KEEP IN YOUR CAR IN CASE YOU GET STUCK.
The area received 0.1 inch of ice before 3.5 inches of snow fell.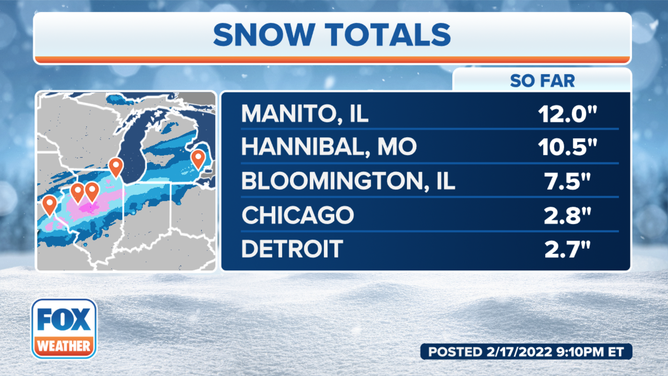 The Midwest has seen anywhere from inches of snow to a foot so far. The snow will taper off overnight. Watch FOX Weather for the very latest storm totals.