Nashville reports snowiest January so far since 1985
Nashville picked up 6.3 inches of snow during a single storm on Jan. 6
NASHVILLE - The snow has been piling up in Middle Tennessee.
Nashville has seen more snow than New York City this winter. In fact, some areas saw 7 inches of snow during a single winter storm.
FOX Weather's Nicole Valdes was in Nashville on Sunday to see how the Music City has been coping with the snow.
Valdes says the city hasn't seemed to slow down with all of the below-freezing temperatures and snow, but cruises along the Cumberland River have been on pause because of the cold weather.
But it's not only about how cold it's been. The city has also been breaking snowfall records.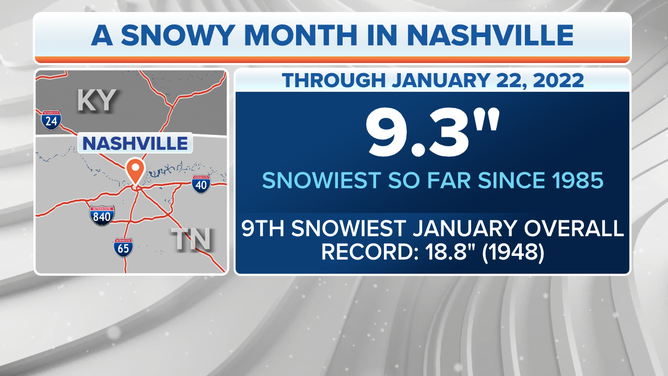 Tennessee has seen four snowfall events totaling more than 9 inches in January. That total makes it the snowiest January since 1985. 
It's also the 9th snowiest January overall. The record of 18.8 inches of snow was set back in 1948.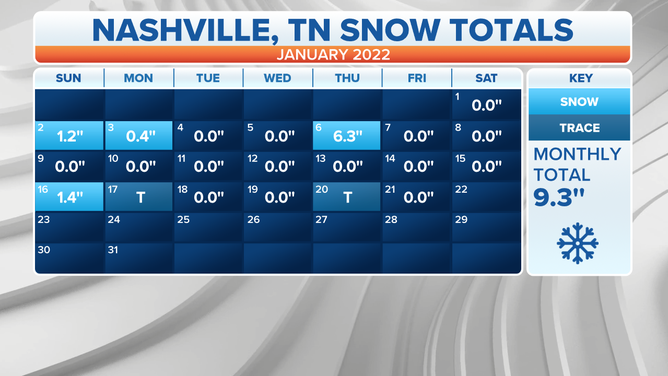 Taking a look at the day-by-day snow totals so far in January, only a few storms have been responsible for most of the accumulations.
The heaviest snowfall was reported during a winter storm that affected the city on Jan. 6, when Nashville picked up 6.3 inches of snow.
People living in the area told Valdes they couldn't remember a time when they saw that much snowfall in one day.