Multiple systems out West to offer mountain snow, costal rain and gusty winds
A lingering stationary front, as well as a slow-moving Pacific storm system approaching the West Coast, will increase the chance for precipitation through Friday evening
Winter weather is not done yet in the Pacific Northwest as two more rounds of storms are expected to close out the week.
A lingering stationary front, as well as a slow-moving Pacific storm system approaching the West Coast, will increase the chance for showers on the coast and snow in the Intermountain West through Friday evening.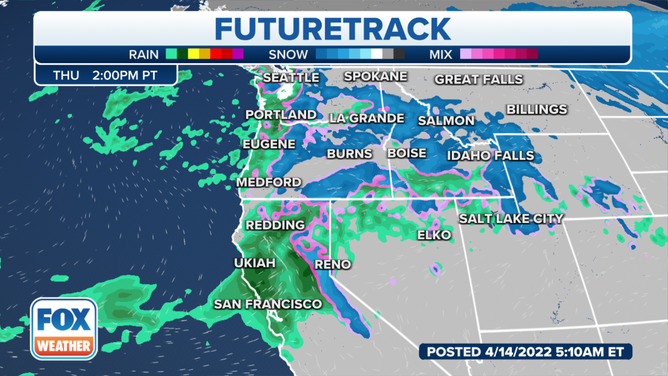 Any snow accumulations should generally remain light outside the mountains. Heavier snow is forecast for the northern Sierra Nevada in California and Teton Range in Wyoming on Thursday.
Beyond that, a system is forecast to reach the West by Saturday, bringing beneficial rain to Northern California and mountain snow to the Sierra Nevada and much of Oregon.
HOW TO WATCH FOX WEATHER ON TV
The National Weather Service in Medford, Oregon, said moderate snow accumulations are expected through Thursday morning, mainly above 3,500 feet in the Cascades and into the mountains in western Siskiyou County. East of the Cascades, moderate snow accumulations will impact areas mainly above 5,000 feet. 
Snow showers ease in intensity Thursday afternoon and evening.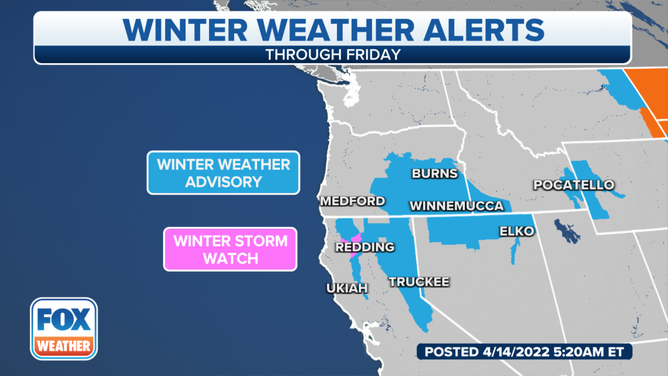 Several periods of mountain snow and travel disruptions along with strong winds are likely around Reno, Nevada, the NWS said. Temperatures will be warmer than they have been but will generally be near to below average. Any travel plans may be disrupted due to the rain, snow and winds Friday night into Saturday morning.
And while the rain and snow are a welcoming sight, the winds will be the primary concern. The NWS said potentially damaging wind gusts of 60-plus mph are possible along the eastern Sierra, including the U.S. Highway 395 and Interstate 580 corridor from Reno south into Mono County. 
WHEN CAN YOU EXPECT THE LAST SNOW OF THE SEASON?
Having measurable snow in the mountains and adjacent valleys isn't unusual in mid-April, according to the NWS. But lower elevations in and around the Columbia Basin have had areas with several inches of snow since last weekend. 
Here are some of the climate records showing the latest date in spring with snowfall measurements of a half-inch or more.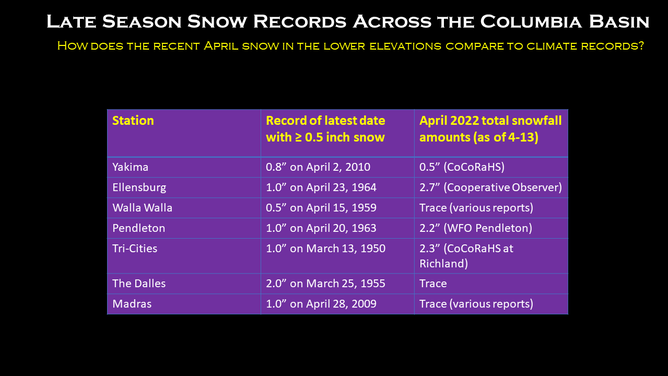 The moisture should spread east beyond the Rockies from Sunday onward. Some precipitation across the northern tier may be in the form of snow, again.