Movie trailers being used to house Georgia tornado victims
EF-4 twister swept through town of Newnan in March
NEWNAN, Ga. – An anonymous donation from someone in the movie industry is being used to help house victims of a powerful tornado that swept through a north Georgia town in the spring.
According to the National Weather Service, the EF-4 twister touched down just before midnight March 25 and reached peak winds of 170 mph as it came through Newnan, Georgia, about 40 miles southwest of Atlanta. One person was killed, more than 400 families were displaced and more than 1,000 structures were damaged.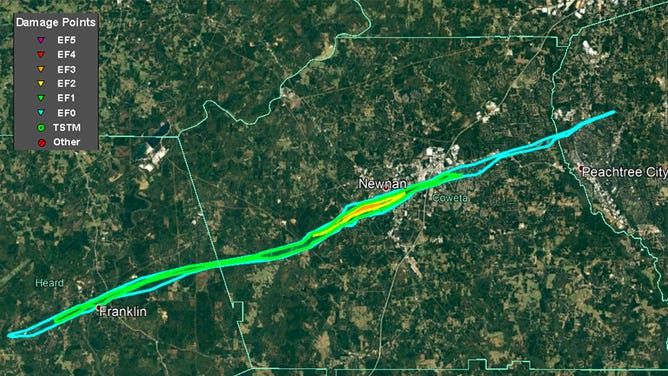 According to FOX 5 Atlanta, the donation includes six trailers, which are usually where stars spend their time while filming a movie. Each trailer has a living area with a gas fireplace, a full kitchen, a bathroom with a shower and a bedroom.
Newnan Councilwoman Cynthia Jenkins told FOX 5 priority is being given to senior citizens and those with disabilities. She said donations of picnic tables and other outdoor amenities are also being sought.
Jenkins said federal funds were not allocated for the recovery efforts, which have been slowed because of the COVID-19 pandemic.