More than 50 quakes reported off Oregon during earthquake swarm
The area off the Oregon coast is a hotbed for earthquakes.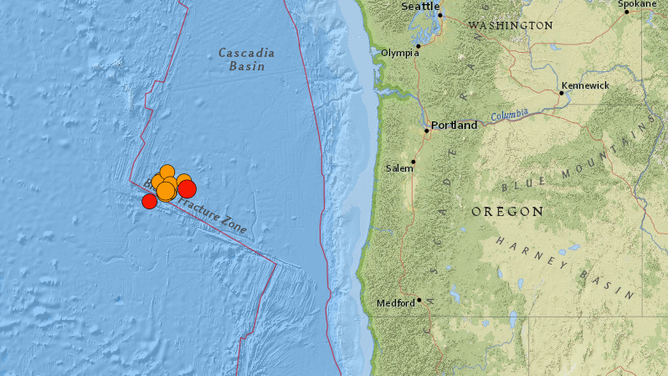 PORTLAND, Oregon -- More than 55 earthquakes occurred as part of a large swarm off the Oregon coast, but experts do not believe it is a precursor to a more significant event.
The swarm, which began on Tuesday, was centered about 250 miles off the West Coast along what is known as the Blanco Transform Fault.
Seismologists said plate tectonics played a role in the event, but there were no abnormalities detected.
The USGS reported 37 of the earthquakes were greater than a magnitude 3.4 and the largest registered as a magnitude 5.8.

Because of the distance of the epicenter away from the coast, only a few reports were relayed of people feeling the shaking.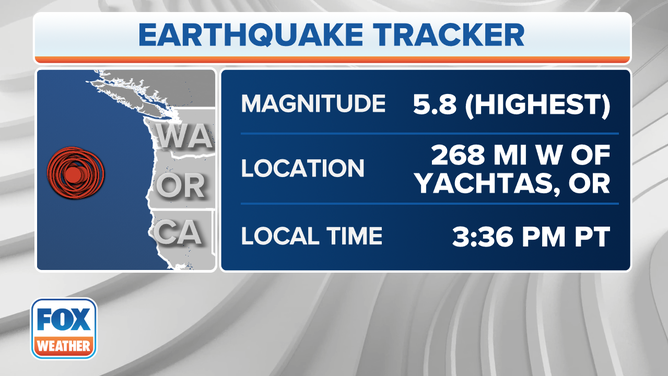 A seismologist with the National Earthquake Information Center said the chance of there being a larger magnitude quake was small, and no one should be alarmed by the series of quakes.
The U.S. National Tsunami Warning Center is monitoring the swarm but said the earthquakes did not generate any tsunami threats for the West Coast.
Blanco Fracture Zone has a long history
Experts believe the fault that triggered the most recent swarm could be one of the most active regions for earthquakes in North America.

The USGS says the Blanco Fault Zone is known as a strike-slip boundary, where tectonic plates meet and slide parallel to one another.
The region does not have big quakes because of the low amount of stress, but the country's most well-known seismologist Lucy Jones says small earthquakes are common.

Jones stated on Twitter that since 1980 there have been more than 133 quakes that registered at least a magnitude 5.0.
Because the fault is located more than a hundred miles off the coast of Oregon, the majority of the earthquakes are never felt in the United States.