More than 2 feet of snow could fall across Cascade, Rocky mountains through Wednesday
New snow brings the risk of avalanches in some areas
Winter weather alerts are in effect across the western U.S. as a storm system will bring heavy snow to the Cascades, Sierra Nevada and the Rocky mountains over the next few days.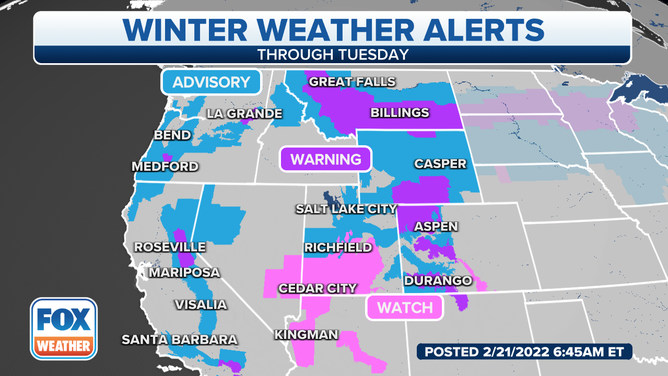 Winter storm warnings have been issued for most of Montana, southern Wyoming, northwestern Colorado and parts of the Sierra Nevada Mountains in California through Tuesday.
Heavy snow started falling in the higher elevations Monday afternoon, and rain fell in the lower elevations from Seattle south into Portland and Eugene, Oregon.
Snow also started falling across the Rocky Mountains in Wyoming, Utah and Colorado.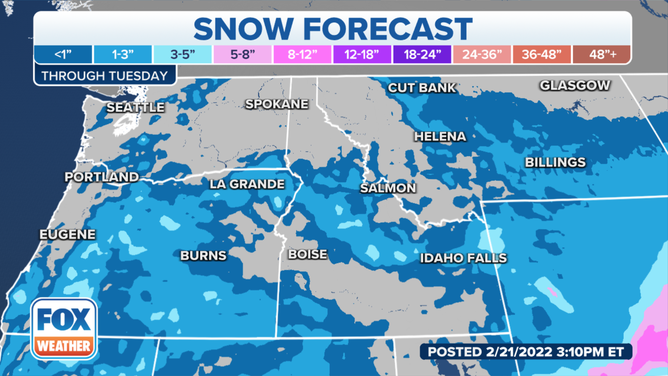 Most of the rain associated with the system will taper off by Monday evening, but snow will still be falling in the mountains. The heaviest snow should be falling in the Rocky Mountains into parts of the Central Plains.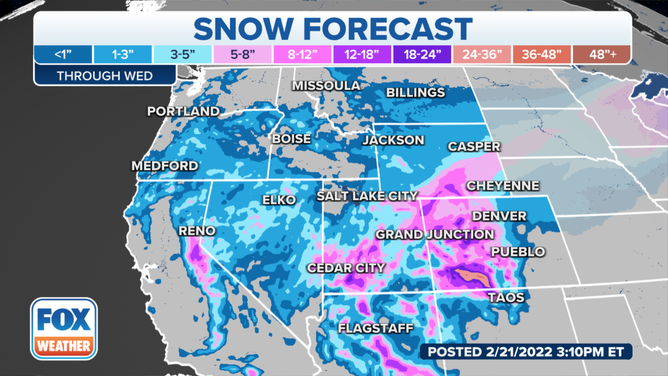 By the time the storm system moves out of the region on Wednesday, some of the highest elevations could pick up between 2 and 3 feet of new snow.
The highest totals will likely be in the mountains in southern Colorado, Utah and Arizona. In addition, parts of the Sierra Nevada Mountains in California could pick up more than a foot of new snow.
And with all the new snow comes the risk of avalanches.
DANGERS OF AVALANCHES AND HOW TO STAY SAFE ON THE SLOPES
They often occur when fresh new snow falls on top of an already compacted snow base. That newer snow can become unstable and trigger an avalanche. 
Heavy snow and strong winds can also result in natural avalanches, but the National Weather Service said that manmade avalanches are much more common. 
"In 90 percent of avalanche incidents, the snow slides are triggered by the victim or someone in the victim's party," the NWS said. "Avalanches kill more than 150 people worldwide each year."