More rain ahead for waterlogged Pacific Northwest as another atmospheric river event begins Tuesday
Some rivers in Washington might reach moderate flood stage by later in the week
The Pacific Northwest can enjoy a much-needed break from the rain Monday, but it will be short-lived as another atmospheric river slams into Washington late Monday night into Tuesday.
This next atmospheric river event is expected to be weaker than the one that drenched the Northwest over the weekend, which brought 3 to 6 inches of rainfall to portions of Washington's Olympic Peninsula and north interior.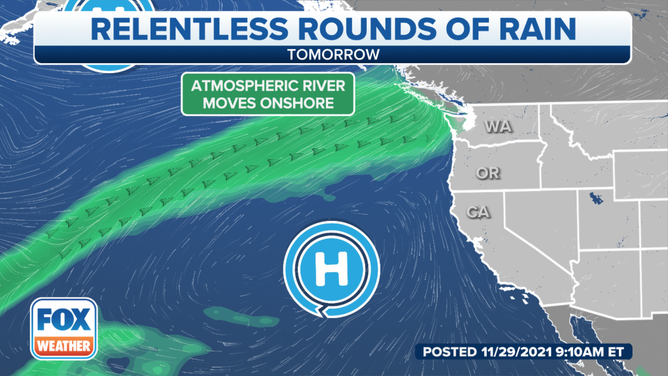 Although Tuesday's rain will affect these same areas once again, rainfall totals are expected to be lighter overall.
Between 1 and 1.5 inches of rain is predicted through Tuesday night in the lowlands of Washington's Whatcom and Skagit counties, while 2 to 4 inches is forecast in the North Cascades and portions of the Olympic Peninsula.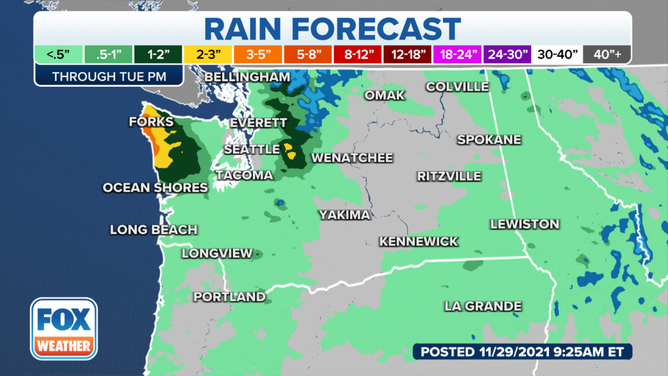 Several additional systems will bring more rain to the Pacific Northwest later this week and into the weekend. This might cause some rivers in Washington to reach moderate flood stage by later in the week.
As of Monday morning, the lower reaches of the Nooksack and Skagit rivers had yet to crest. It remains unclear how rivers in these areas will respond to the upcoming rainfall over the next several days.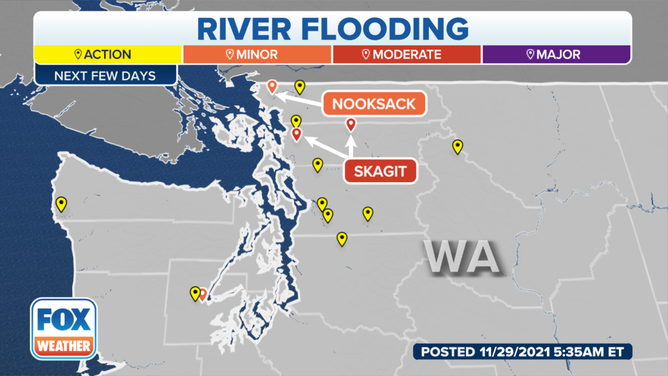 The National Weather Service in Seattle said there is also a threat for landslides with this week's rainfall. Soils will not have adequate time to fully dry out before rain arrives again by Tuesday, and therefore, they will remain unstable.