Missouri communities come together as tornadoes leave path of destruction
There is still a ton of cleanup in the small town of St. Mary, located about an hour south of St. Louis
ST. MARY, Mo. -- Missouri communities now are focused on cleaning up across the state after a storm system spawned tornadoes Sunday.
There is still a ton of cleanup in the small town of St. Mary, located about an hour south of St. Louis. The National Weather Service believes the damage is indicative of an EF-2 tornado. They plan to continue conducting survey assessments this week, and some ratings could increase.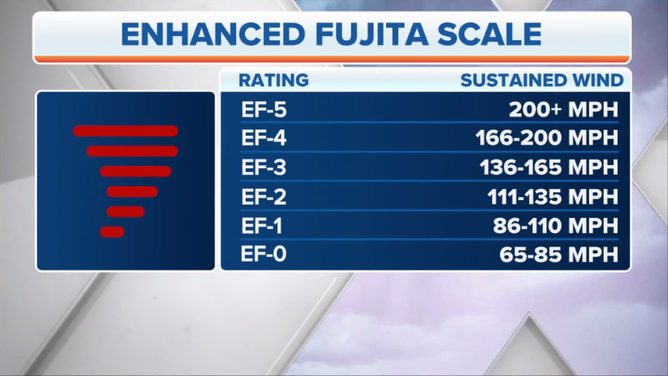 Homes are missing roofs, trees and personal belongings are littering yards and wooden pieces of homes' framework have been tossed across town. The St. Mary Antique Mall is closed indefinitely due to significant damage to the building.
'That's when I knew it was hitting'
Tim Schwartz and his daughter took cover in their bathroom.
"It was pouring super hard, and it was generally windy all day long," he told FOX 2 in St. Louis. "But then we went into the bathroom, blankets, towels, ready to camp out and then silence. And then you could hear debris from the antique mall hitting our house, which is probably 150 yards away. And that's when I knew it was hitting."
Authorities reported no injuries in the small Ste. Genevieve County town of about 400 people.

Surveyors rate one tornado EF-3
Many communities in the southern Missouri area are finding themselves in the same situation.
Survey crews said that the strongest tornado was near Fredericktown, Missouri. Meteorologists believe that winds in the EF-3 tornado were at least 136 mph.
Preliminary reports indicate up to six tornadoes across northern Missouri, including an EF-2 in Purdin. The NWS said they found at least EF-0 tornado damage in the Richview and Irvington, Illinois, area.
Now, it's about putting the pieces back together and taking the next steps to rebuild.
The NWS said they plan to come back throughout the week to continue their damage assessment to pinpoint what kind of tornado ripped through these communities truly.
Why do damage surveys take so long?
For each suspected tornado path, the survey team must first drive to the area. It can take up to 2.5 hours one-way. Crews must then repeatedly drive across the damage path. The NWS says they do this roughly once per mile as roads allow.
Next, crews will plot GPS points, take photographs, investigate the damage and talk to witnesses.
After driving back to the NWS office, they will access all the information to determine if the damage was from a tornado or straight-line winds. They will then track the damage intensity. Sometimes this requires consulting experts. Finally, the survey crew will write summaries and create maps.