Mandatory evacuations ordered for some New Orleans residents
'We do have a major storm coming our way,' mayor says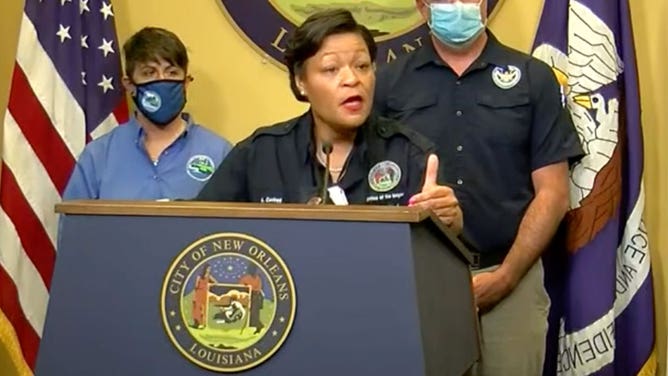 NEW ORLEANS – Mandatory evacuations were ordered Friday for some New Orleans residents as the city prepares for Hurricane Ida, which is set to make landfall over the weekend.
Ida, which became a hurricane Friday as it approached Cuba, is forecast to become a major hurricane Sunday with winds of at least 120 mph before making landfall in Louisiana.
New Orleans, which is expected to get high winds, flooding rains and nearly a foot of storm surge from Ida, is closely monitoring the storm.
"We do have a major storm coming our way," said New Orleans Mayor LaToya Cantrell.
Cantrell ordered mandatory evacuations for anyone living outside of the city's levee protection zone. She said voluntary evacuations have been issued for everyone else.
The @CityOfNOLA is issuing a mandatory evacuation for areas outside the levees (red) and a voluntary evacuation for the rest of the parish (yellow).#Ida could bring up to 11ft surge outside levees, and dangerous winds & heavy rain for the full area. pic.twitter.com/dkJuAkgKUC

— NOLA Ready (@nolaready) August 27, 2021
"This is the time to take action," Cantrell said, as she urged residents to finish their storm preps by Saturday.
Cantrell said she has already signed a disaster declaration for the city, which will be filed sometime Friday afternoon.
Officials at the city's Flood Protection Authority said more than half of the flood gates along the levee system will be closed by Friday afternoon, with all of the gates being closed in advance of Ida's arrival.
Three of the city's 99 drainage pumps are down, but officials said the remaining 96 pumps should be able to pick up the slack.
Hospitals in the city are preparing to shelter in place, officials said.
The start time for the final preseason game of the New Orleans Saints has been moved up to noon Saturday from the original 7 p.m. kickoff.