Only two major mountain passes reopened Sunday in Pacific Northwest after heavy snows
Closures impact I-90, U.S. 2, U.S. 12 and U.S. 92 through the Cascades
Washington State Department of Transportation (WSDOT) finally reopened Snowqualmie and Blewett Passes Sunday evening after snow, ice and avalanches closed them for four days. The temporary speed limit is 45 mph and WSDOT advises drivers to have traction tires.
White Pass and Stevens Pass remain closed through the Cascade mountain range. White Pass could reopen late Monday but the Steven's Pass roadway is still under four inches of ice and has snow slides 60-70 feet high and not expected to reopen until Wednesday said WSDOT.
Take a look at a WSDOT Tweet from Thursday night at White Pass.  Crews had to rescue the truck's driver and passenger.
The WSDOT closed the major roadways on Thursday as recording-breaking snow made driving dangerous through the mountains.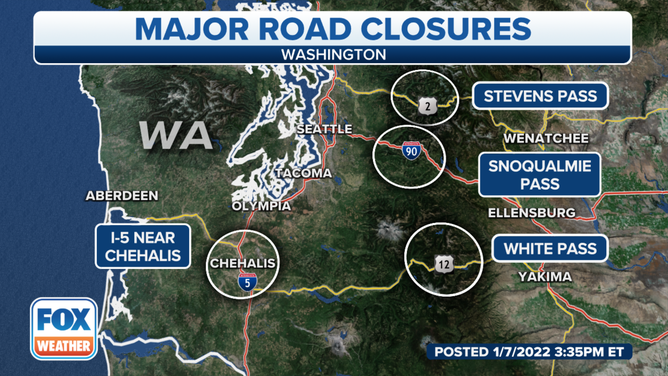 Governor Jay Inslee issued an emergency proclamation because of the heavy snow and flooding rain in the lower elevations.
Significant flooding was reported in southwestern Washington and northwestern Oregon, forcing evacuations.
WSDOT reported that 292 inches of snow fell on Snowqualmie Pass so far this winter season, almost twice what the area sees on average over five years. 
Crews at White Pass have had to cut through 16 feet of snow.
WSDOT reported at least 38 natural avalanches fell onto I-90, and crews were still working to remove trees and other debris from the interstate.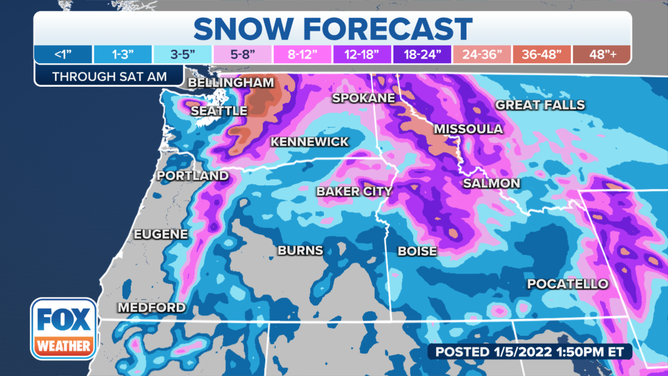 "We recognize the importance of these corridors, but nothing is more important than the safety of our crews and the public. We are prepared to move in once it is safe, and we appreciate your patience during this challenging situation," WSDOT said in an advisory.
The weather looks like it'll cooperate with efforts to reopen roadways.
Meteorologists say a ridge of high pressure will build in over the weekend, which will help limit precipitation.