Dozens rescued after major flooding across parts Washington, Oregon
Up to 8 inches of rain has already fallen in the region, with another 1 to 3 inches on the way through the morning
CHEHALIS, Wash. -- A powerful atmospheric river dumped record rainfall amounts into southern Washington and northern Oregon, sending rivers to record levels and causing dozens of rescues.

Some areas received around 8 inches of rain, forcing authorities to close some major roadways.

The Grays Harbor County Sheriff's Office reports a 72-year-old man died trying to move his car to higher ground in Cosmopolis, Washington and was swept away by floodwaters.

FOX12 Oregon reported more than 20 people were rescued from the floodwaters in the northern part of the state.

 Numerous rivers are already in flood stage and a few are continuing to rise.

The Skookumchuk River near Bucoda, Washington, is expected to rise Friday to 216.06 feet, a record level. The historic crest of 216.02 feet was recorded on Feb. 8, 1996.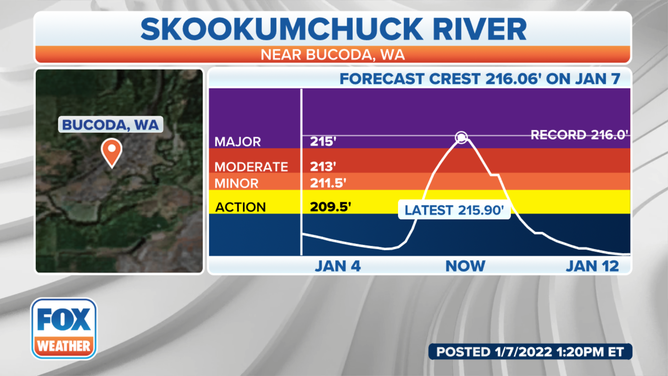 The nearby Newaukum River near Chehalis, Washington, reached a new record crest of 205.59 feet at 11:15 p.m. Pacific time Thursday, topping the previous record of 205.48 feet from Feb. 8, 1996.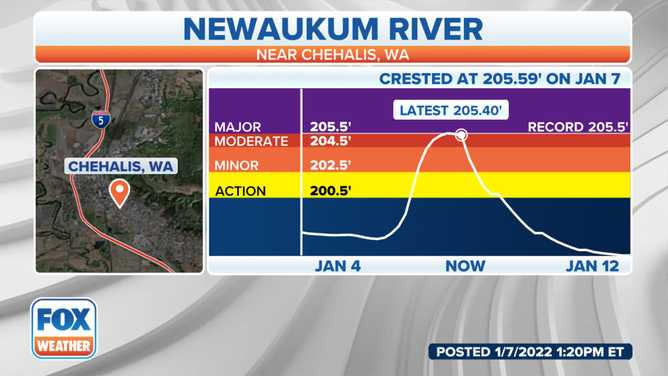 The Chehalis River also reached major flood stage and is predicted to reach its second-highest crest on record.  
Numerous roads and properties are expected to be flooded as a result. Major flooding is also expected along the Willapa, Grays and Naselle rivers in Washington.
In the town of Hoquiam, Washington, over 7 inches of rain have fallen in the storm, including their all-time daily rainfall record of 5.78 inches that fell Thursday. 
All that rain led to flooded streets and at least one landslide on Thursday. One vehicle was stuck in a slide along SR-109, but the couple inside was freed with no injury.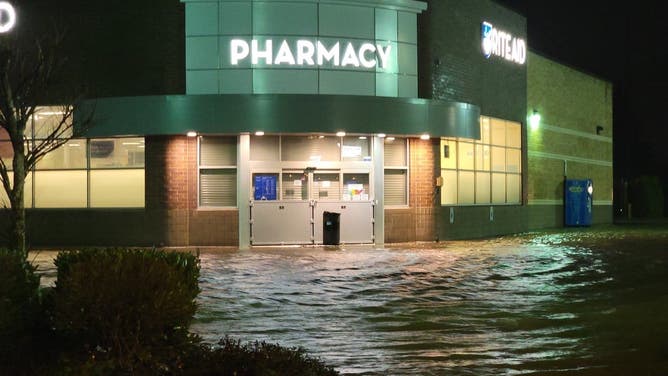 In northern Oregon's Columbia River Gorge, heavy rains led to several mudslides along Interstate 84, shutting down the freeway for several hours Thursday and adding to the travel headaches. Floodwaters washed out a road along Highway 47 in northwestern Oregon near the town of Mist.
In the mountains, an additional foot of snow is expected. Snoqualmie Pass in the Washington Cascades has recorded five consecutive days with at least a foot of snowfall, and 69 inches of new snow total.  

With all mountain passes remaining closed due to heavy snow and dangerous avalanche conditions, and train service halted between Seattle and Portland, travel beyond Seattle has been challenging since the storm began Thursday morning.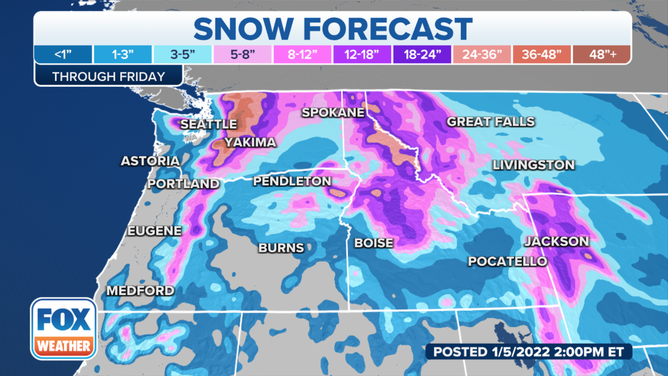 In Eastern Washington, heavy snows have been the challenge. Wenatchee smashed its record for highest 24-hour snowfall at 23.3 inches, breaking the old record of 16.5 inches set in 1971.
In Spokane, 10 inches of snow fell and then a period of freezing rain.
Areas of freezing rain were reported through much of the Columbia Basin. 
Blizzard conditions are expected along the Rocky Mountain Front in Montana with wind gusts as high as 60 mph. 
The slopes have been getting pounded with dense heavy snow and strong winds, but beneath is a layer of weak and sugary snow, which poses a serious risk of an avalanche. Avalanche Warnings and Watches have been posted for areas shown in the map above.