Several rivers flood in the Northwest as atmospheric river rains continue
A strong atmospheric river continues to dump heavy rains across western Washington and northern Oregon Thursday, sending several rivers above flood stage and threatening major flooding on some of the region's larger rivers.
SEATTLE – A robust atmospheric river continues to dump heavy rains across western Washington and northern Oregon, sending several rivers above flood stage and threatening major flooding on some of the region's larger rivers.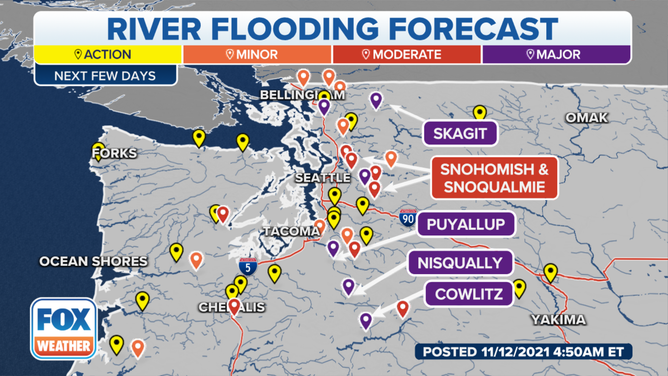 So far, Flood Warnings were in effect for 12 rivers in Western Washington as of Friday morning, with major flooding forecast along the Snoqualmie River and Tolt Rivers east of Seattle, the Nisqually and Puyallup Rivers south of Tacoma, and the Cowlitz River near Randle in southwestern Washington. 
The Snoqualmie River is now expected to crest at 58.4 feet which classifies as a major flood, though is about 1.5 feet lower than earlier projections from Thursday that would have placed it in a Top 10 crest. Luckily the rain hasn't been quite as heavy in that corridor as earlier feared but widespread flooding impacts are expected in the river's flood plain.
Several other rivers were under threat of minor or moderate flooding, and Flood Watches remained in effect for all mountain-fed rivers in the region. The National Weather Service in Seattle said as many as 20-24 river gauge forecast points across Western Washington will likely be on Flood Warning during the event.
LEARN: What is an Atmospheric River
Forecasts called for as much as 3-5 inches of rainfall through Friday afternoon in the mountains and southwestern Washington, with 2-3 inches of rain likely in the northwestern Oregon coastal ranges and northern Oregon Cascades, where 6 rivers were under Flood Warnings for minor flooding potential.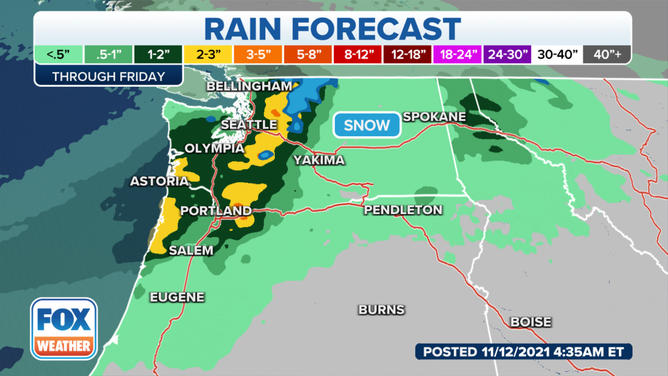 Heavy rains were falling in the lowlands, with 1-1.5 inches likely from Seattle north to the Canadian border and about 2-3 inches from Tacoma south into the Portland Metro area.
The heavy rains overwhelmed the sewage treatment plant in Portland, sending overflow into the Willamette River, according to FOX 12 Oregon. "The overflow is a combination of storm water and sewage, about 80 percent storm water and 20% sewage." People are advised to avoid contact with the river for 48 hours because of increased bacteria. 
Farther south, there is a report of a significant landslide in the Slick Rock Creek area in Oregon's Lincoln County, according to the Lincoln County Sheriff's Office.
There are more than 100 homes behind the road closure, but no reported injuries or damage, reports FOX 12 Oregon. Officials said they should be able to reopen the road by mid-morning Friday. 
And emergency managers are warning of additional landslides.
"Heavy rain can trigger debris flows and landslides in steep terrain, and the risk is higher in wildfire burn areas," the Oregon Department of Emergency Management said Wednesday. "There is potential for debris flows in the burned areas of the Cascades, including the Riverside, Beachie Creek and Lionshead fire sites. Eagle Creek and Holiday Farm fire areas may also be potentially impacted."
In addition to landslides, flooding has been an issue in Lincoln County. A retired firetruck that sits at the entrance to the small town of Otis shows the depth of flooding in that area: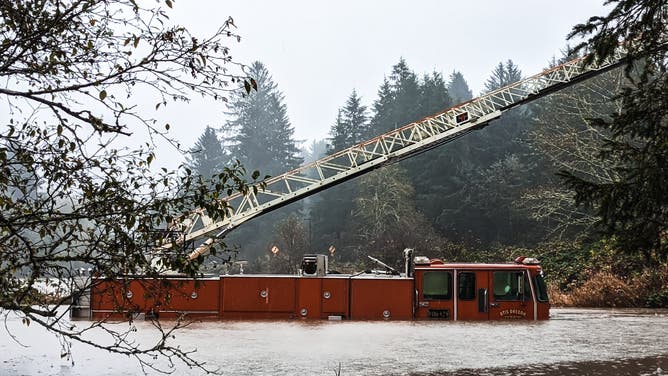 The storm has tapped into warmer, tropical air, which will send snow levels rising as high as 10,000 feet. A thermometer atop Mt. Rainer's Camp Muir at just over 10,000 feet elevation registered a temperature of 32 degrees Thursday afternoon.
The warm air sets up a double whammy of rain falling at higher elevations to run off into rivers instead of sticking as snow; plus, with temperatures rising above freezing, some snowmelt will add to the runoff.
The Flood Watches remain in effect until Friday afternoon in Oregon but linger into Saturday in Western Washington.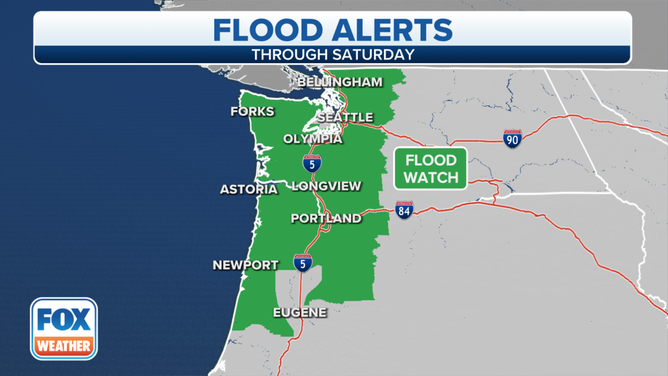 Second Atmospheric River looms over the weekend 
It's rained on nearly every day in November in the coastal Northwest, coming off a soggy end to October.
Some parts of Western Washington have received 8 inches of rain in the past week. Seattle has had rainfall on 20 of the past 22 days, while Portland has had rain on 21 of the past 23 days.
But while the heavier rains from this first atmospheric river will taper off by later on Friday, forecasts show another atmospheric river heading into the Pacific Northwest later in the weekend for another round of heavy rains and potential river flooding.