Major coastal flooding expected this weekend along Southeast coast
A nor'easter is pounding the Southeast coast unleashing a multitude of dangers, including winds that are getting more intense
CHARLESTON, S.C. – A nor'easter will develop off the east Florida coast on Saturday and move up along the coast this weekend.
Strong northeasterly winds will push onshore along the Southeast coast thanks to a building high pressure.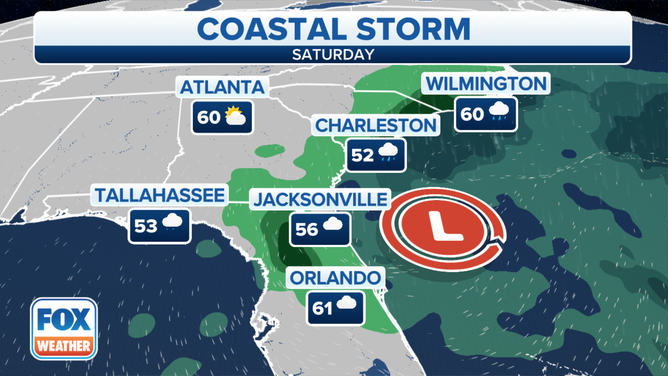 Powerful winds up to 30 to 50 mph will be a concern for much of the East Coast. The combination of a new moon and onshore winds will lead to significant coastal flooding in some areas. The coastal storm is also forecast to bring beach erosion and powerful surf.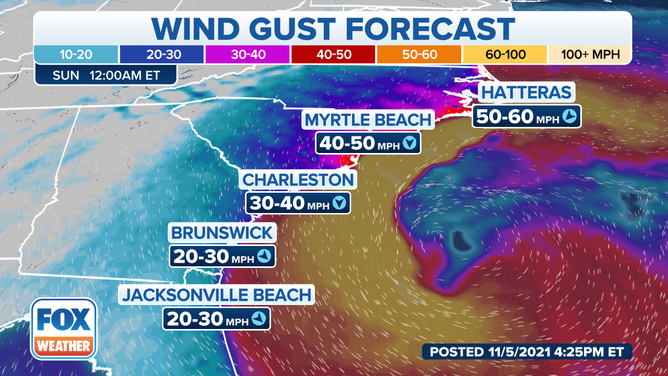 Coastal Flood Advisories and Warnings are in effect where the worst coastal flooding is expected along parts of the South Carolina and Georgia coasts. Flooding will still be significant as far south as eastern Florida and as far north as the Outer Banks.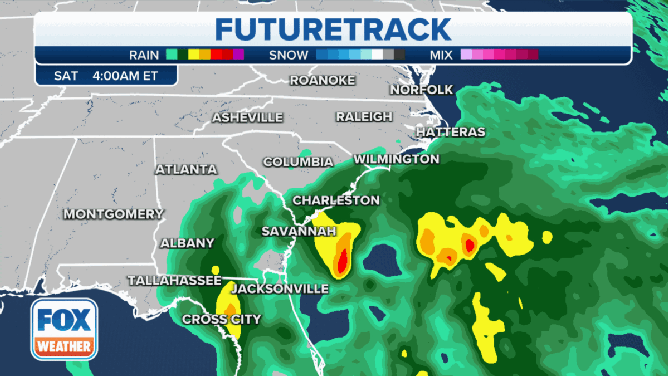 Tybee Island, Georgia, and Charleston, South Carolina, are expected to reach "major" flood stage on both Saturday and Sunday mornings. Major flooding is also possible along the St. Johns River in northeast Florida.
High tide will also occur about 10 a.m. Eastern in Tybee Island and Charleston which will only cause more issues with rising coastal flood water. Numerous roads will become impassable and multiple buildings will see water inundate the lowest floors.
The National Weather Service in Newport/Morehead City, North Carolina, said the coastal storm will also impact Cape Hatteras National Seashore travel routes and beaches. Impacts are likely to include moderate to major oceanside overwash, potentially leading to challenging or impassable travel conditions, especially Sunday and Monday morning, along N.C. Highway 12 on Hatteras and Ocracoke islands.
Off-road vehicle routes will likely be impassable for the next several days. All Seashore users should stay out of the Atlantic Ocean until conditions subside, the NWS said. 
"Visitors should take this storm seriously as it could be one of the strongest storms of the season," said David Hallac, superintendent, National Parks of Eastern North Carolina. "If possible, visitors should avoid travel to Seashore destinations until after the storm leaves the area."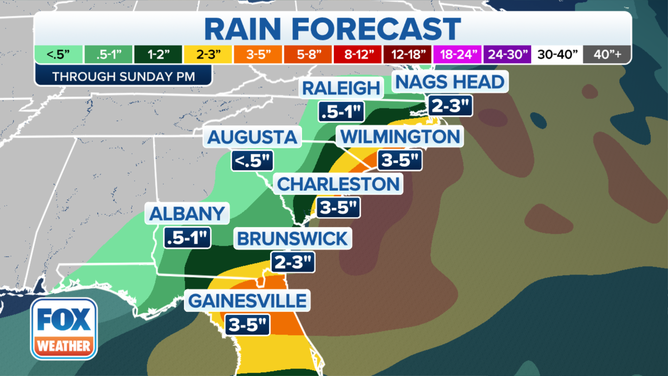 Farther north, minor coastal flooding is expected in the mid-Atlantic between Delaware and New Jersey – nowhere near the extent of last week's flooding triggered by another coastal storm.
Some places right at the coast in Georgia and the Carolinas could pick up 3 to 5 inches of rain as the low passes by.
Continue with FOX Weather for the latest on this flooding.