Major airport delays possible for travelers during last weekend before Christmas
More than 109 million Americans are expected to travel for the holidays
Several major airports could see weather delays this weekend as the final travel rush gets underway for the Christmas holiday week.
AAA estimated more than 109 million people will travel at least 50 miles to get to their destination.
Meteorologists say travelers hitting the roads and airports in the Northeast and along the Gulf Coast could see the most significant delays.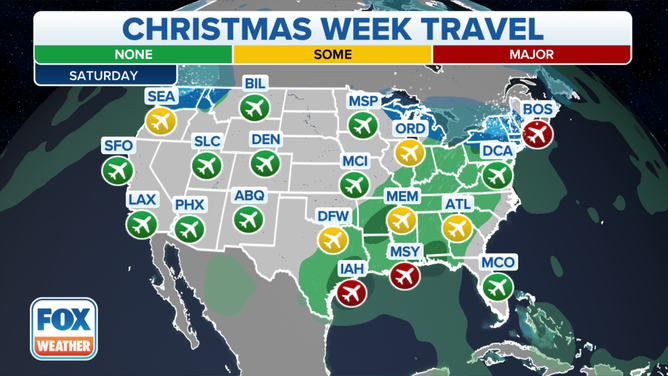 Computer forecast models show major hubs in the Northeast will have to deal with precipitation as a weak area of low pressure moves through.
Most of the cities along the Interstate 95 corridor will see a cold rain on Saturday, but it is likely Boston and areas northward will see cold enough temperatures for the rain to turn to ice and snow.
WHAT ARE THE ODDS OF A WHITE CHRISTMAS?
The tail end of the front will also cause problems in the Southeast and especially along the Gulf Coast. 
Cities along the Interstate 10 corridor and in the Lone Star State are forecast to see heavy rainfall on Saturday, likely leading to significant delays in the Houston area.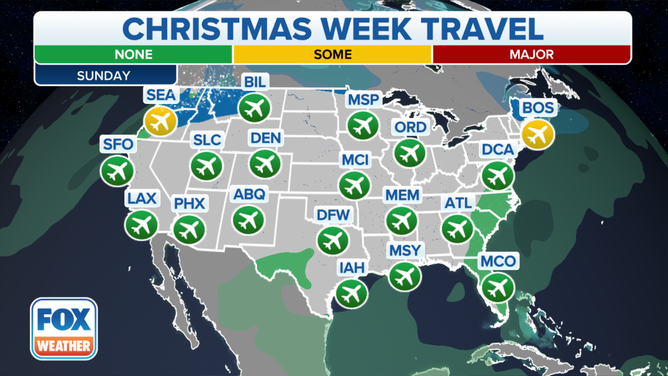 MORE AMERICANS ARE TRAVELING THIS WINTER; HERE'S WHERE THEY'RE HEADED
Most of the adverse weather will make its way off the East Coast for Sunday; however, travelers to the Sunshine State may see isolated delays as the front pushes through and produces scattered showers and thunderstorms.
The weather pattern for the Pacific Northwest will remain unsettled for several days, which could lead to both arrival and departure delays at the Seattle-Tacoma International Airport.
Download the FOX Weather app to see your holiday destination's forecast: FREE DOWNLOAD