Lightning strike disintegrates massive tree in Oregon
Storms are rare in the Pacific Northwest because of a lack of moist, unstable air.
CANBY, Ore. – A rare thunderstorm in the Pacific Northwest Thursday will likely be remembered by Oregonians near the small town of Canby for the destruction it caused.
The Clackamas County Sheriff's Office says deputies responded to a neighborhood for a welfare check because a resident called 911 after hearing a loud boom during the afternoon storm.
To the deputies' surprise, they stumbled upon a massive tree that virtually disintegrated after a lightning strike.
Photos of the aftermath of the strike show pieces of the tree scattered across the rural landscape with only part of the trunk intact.

HOW TO WATCH FOX WEATHER ON TV
Neighbors flooded the Clackamas County Sheriff's Office Facebook page after the photos were posted, saying they heard the loud boom from nearly a mile away.
Despite the stunning scene, deputies said, fortunately, no one was injured during the freak act of Mother Nature.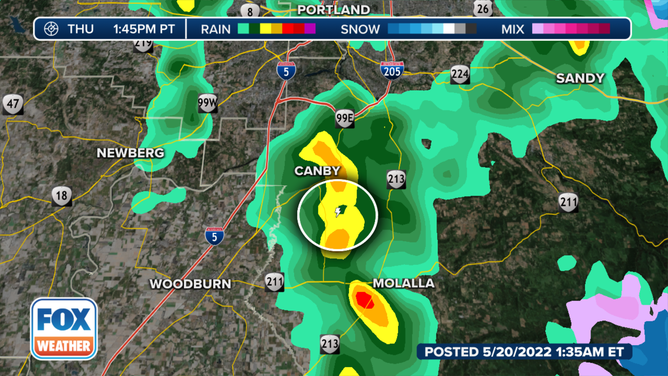 Wet trees are particularly vulnerable to explosions when struck by lightning. The bolt can be as hot as 50,000 degrees and that will instantly vaporize water that has seeped into the bark. The result is a tremendous increase in air pressure that causes the bark to explode – or as in this case, the entire tree.
WHY ARE THUNDERSTORMS SO RARE ALONG THE PACIFIC COAST?
Because the area's weather is dominated by the Pacific Ocean, the environment is usually unfavorable for thunderstorm development.
Meteorologists say a trough moving through the Pacific Northwest on Thursday in combination with daytime heating was enough to trigger scattered showers and isolated thunderstorms that produced lightning and even hail.
The hail caused havoc on major roadways near the Oregon-Washington border.
Troopers blamed the accumulation of ice on Interstate 5 for leading to several crashes that caused injuries and even a death.
Forecast models show increased moisture could linger over the Cascades through the weekend, and if there is enough instability, a thunderstorm or two cannot be ruled out.