Lightning torches man's trusty pickup truck
Thunderstorms rolled across Arizona Monday night and Tuesday bringing tens of thousands of lightning strikes and flash flooding.
SUN TAN VALLEY, Ariz. -- A pickup truck that had been in an Arizona family for more than 20 years was destroyed Tuesday when it was struck by lightning during a ferocious thunderstorm.
"I was going to drive this thing until the d--- wheels fell off, to be honest with you," Richard Lange told FOX10 News in Phoenix.
Lange said he'd seen dozens of monsoon seasons in his lifetime, but Monday night will be one he never forgets. 
According to the National Weather Service, thunderstorms rolled through Sun Tan Valley through the night, generating at least 33,000 bolts of lightning. One of those bolts found Lange's 1999 Dodge Ram, startling his girlfriend, who was still awake when it happened.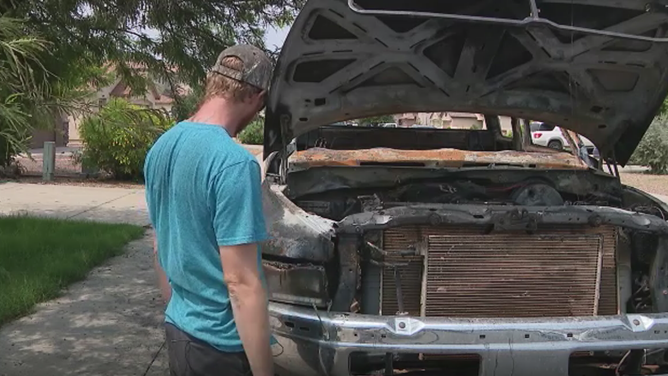 She saw the truck become engulfed in flames and ran to go wake Lange. Neighbors who heard the commotion filmed the fire as Lange ran to get a garden hose in a futile attempt to douse the flames.
"Ran out of the side yard, fell a couple of times," Lange said. "There was like three feet of water down by the back gate."
Fire crews arrived, but by then, all that was left was a charred shell of the truck that had been in the family for 20 years. Lange's father had bought the truck brand new, and it was the truck Lange had learned to drive.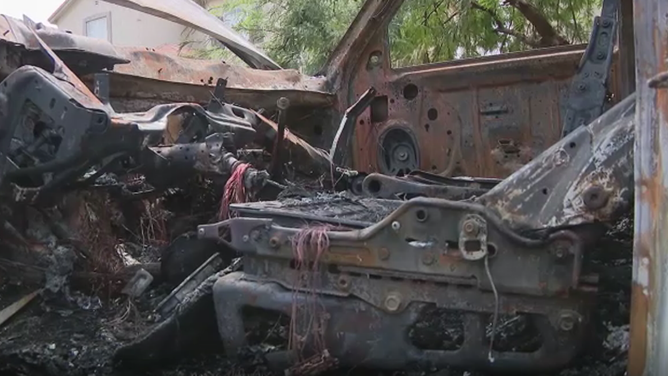 "It's kind of heart-wrenching to see it go out in a blaze of glory that you really weren't expecting," Lange said.