Water rescues reported in Birmingham as 'life-threatening' flash flooding unfolds
Parts of the Birmingham area has already seen 3 inches of rain and more rain is on the way
BIRMINGHAM, Ala. – Images and videos showing cars stranded on water-covered streets in Birmingham are being circulated on social media Wednesday as forecasters warn of "life-threatening" flash flooding in the area.
The National Weather Service issued a Flash Flood Warning for much of the southern Birmingham area, noting that as much as 3 inches of rain have already fallen in the area with rain continuing to fall.
The flooding is being caused by slow-moving storms that are continuing to move over the same areas – a process known as training.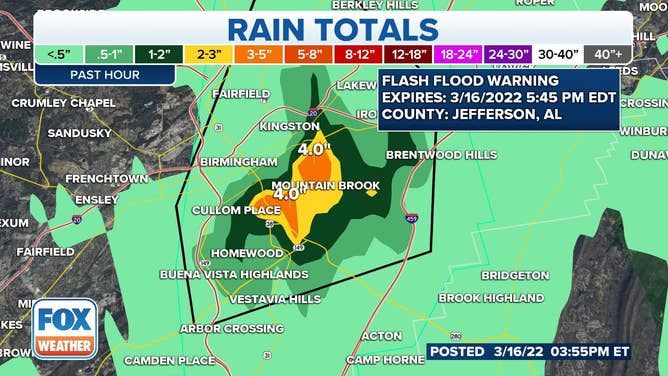 According to the NWS office in Birmingham, there have been reports of water rescues in mainly southeast parts of the city, such as the Five Points South, the campus of UAB, the area near St. Vincent's Hospital and downtown.
People have been sharing several photos and videos of the water covering roads in parts of the city.
It doesn't take much rain to cause flooding issues in Birmingham. In some parts of the city, just a half-inch of rain in an hour can cause issues.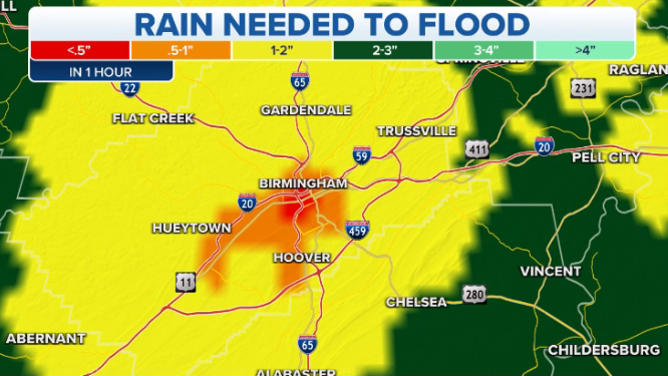 Drivers should remember it is never safe to drive through floodwaters. It only takes inches of rushing water to sweep a vehicle off the road. Keep this adage in mind: Turn around, don't drown.
Download the FOX Weather app to get weather alerts when they are issued for your area. Get started a foxweather.com/app.