Less than half-inch of rain could trigger flooding in Southeast
The region has already received 6 to 10-plus inches of rain this week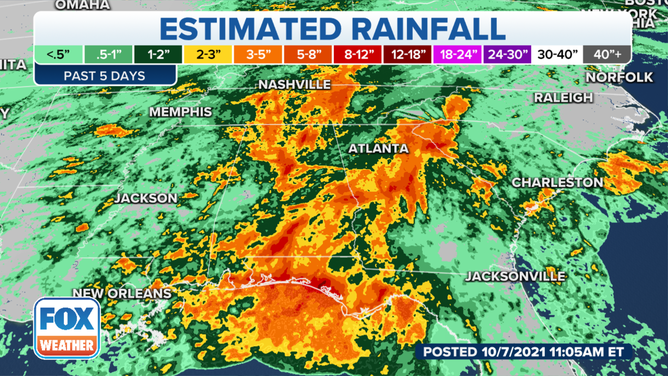 The Southeast has been hammered with heavy rainfall over the past week, leaving soils so saturated that it won't take much additional rain to trigger more flash flooding.
Doppler radar and automated rain gauges estimate that a wide swath of the region has already received 6 to 10 inches of rain, with some areas nearing a foot of rain since the beginning of the week.
The National Weather Service issued a rare Flash Flood Emergency on Wednesday evening from Birmingham to Pelham, Alabama, after receiving numerous reports of water rescues, roads underwater, water entering structures and deep-flowing water in the area. At least two deaths are being blamed on flooding in Alabama.
This rain is running out of places to go because the ground is so saturated that it can't absorb it fast enough.
In fact, the Birmingham, Alabama; Huntsville, Alabama; and Chattanooga, Tennessee, metro areas only need a half-inch of rain in 6 hours to cause additional flooding problems, according to the 6-hour flash-flood guidance from the National Weather Service.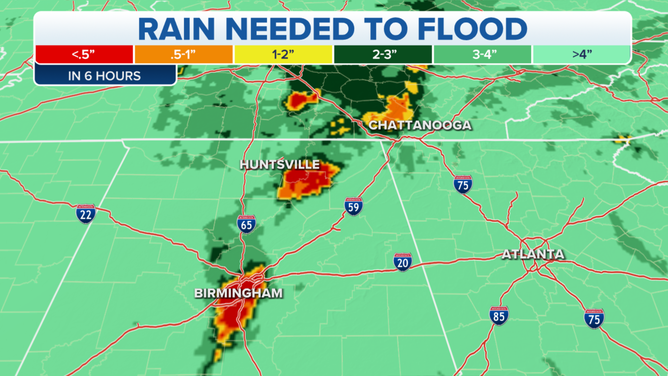 Many of these locations received 1 to 2-plus inches of rain in just one hour – far more than a half-inch in 6 hours – during the heaviest rains, which is why flooding has been so problematic in the Southeast this week.
The 1-hour flash-flood guidance from the NWS tells a similar story. Less than an inch of rain in 1 hour could trigger flooding on Thursday in the Birmingham, Alabama; Huntsville, Alabama; Chattanooga, Tennessee; and Nashville, Tennessee, metro areas.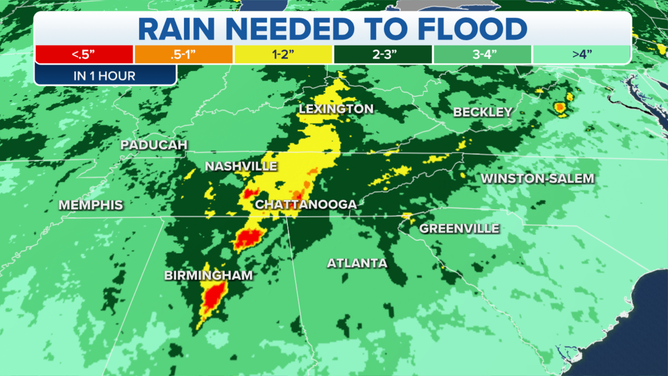 NOAA's Weather Prediction Center has hoisted a moderate risk (level 3 of 4) of excessive rainfall through Thursday night for parts of western North Carolina, northwestern South Carolina and northeastern Georgia.