Lake-effect snow dusts northern Ohio, New York and Pennsylvania
More lake-effect snow possible early next week
CLEVELAND, Ohio – Cold air blowing over the Great Lakes produced a dusting of lake-effect snow Friday in regions of Ohio, Pennsylvania and western New York.
Lake-effect snow develops when cold, dry air flows across the relatively warmer waters of the Great Lakes. In mid-November, the Great Lakes are not frozen and capable of producing winter weather.
Lake-effect snow can sometimes be measured in feet, but Friday's event just brought a light dusting to areas around Lake Erie and Lake Ontario.
LEARN MORE: What is lake-effect snow?
Friday morning, some areas northeast of Cleveland received more than 4 inches of snow, including Montville and Chardon with more than 5 inches.
Jameston, New York, received more than 4 inches by 6 a.m. Friday and southeast Kennedy, New York, received more than 5 inches, according to the NWS.
More snow is possible near Buffalo, New York later on Friday.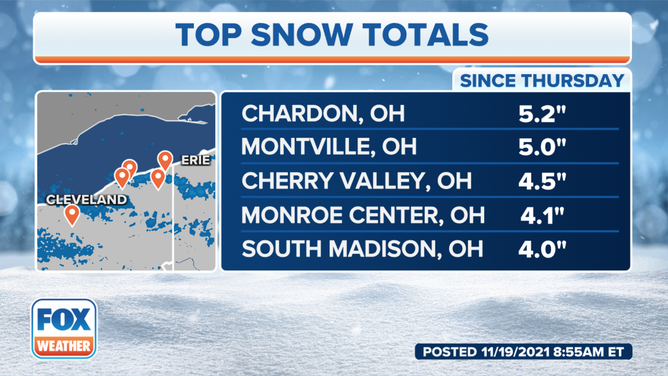 Lake-effect snow is expected early in winter and can fall quickly, reducing visibility on the roads.
Ohio Department of Transportation spokesperson Amanda McFarland explained parts of Interstate 90 are a "variable speed limit corridor," which allows ODOT to adjust the speed limit depending on weather conditions.
"This has really helped reduce the number of crashes we see on that section of I-90," McFarland said. 
Conditions on Ohio roads improved Friday morning as ODOT crews cleared the snow across northeast Ohio.
Matt Burning, Ohio Department of Transportation press secretary, told FOX Weather as the snow melts, ODOT will focus on clearing bridges and overpasses and making sure they don't freeze over.
Burning said the salt used to clear the snowy roads comes from Lake Erie.
Each winter season, ODOT hires about 500 seasonal workers to help with winter weather events. 
More lake-effect snow is possible from the Great Lakes early next week ahead of the Thanksgiving holiday.