'It's devastating': Recovery efforts continue after EF-3 tornado rips through Kansas town
Meteorologists believe an EF-3 tornado tore through Andover, Kansas, leaving several structures damaged
ANDOVER, Kan. – A strong tornado caused significant damage in Andover, Kansas, on Friday evening, one of several tornadoes to sweep across Kansas into Nebraska.
Miraculously, only a few minor injuries were reported despite hundreds of homes and businesses being damaged or destroyed.
"We had many buildings in Andover take very tough damage," said Andover Fire Chief Chad Russell. "Total in the path there were 966 buildings, we believe. We do not have a damage assessment of how many of those were damaged."
One of those buildings to suffer significant damage was the Andover YMCA, where about 60 people were inside when the twister roared through the neighborhood. Video from the aftermath showed several cars twisted and mangled as they were tossed against the building -- even a couple tossed through the front walls. 
"I had a Buick Lucerne – it got picked up and tossed around and slammed into a tree," said Aaron Becker, who was inside the YMCA during the storm. "It was my first car… and when I walked out seeing that (damage)… it's just hard…now it's kind of like 'what am I going to do?' "

But all 60 inside were able to make it safe shelter.
"It's devastating. I've never seen the aftermath of just something like this," said Rachel Schnitzler, who also attended the YMCA. "I mean, there are cars flipped upside down, and it's just it's very sad. It's just going to take a while. I think we should focus on the people who were directly affected first and start rebuilding from there."
Prairie Creek Elementary school suffered damage as well, leaving school officials scrambling to find a new home for students to finish the year. 
"Some rooms were untouched, while others were heavily damaged," school officials wrote in a status update on social media. School is out now until at least May 9.
"Our community has experienced a traumatic event, and it will take time for us to heal. We will get through this together."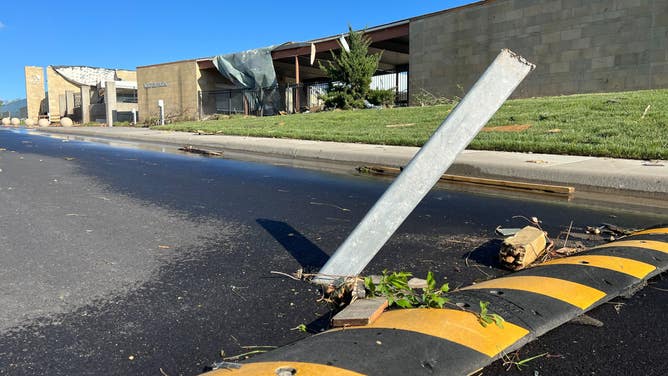 The Kansas National Guard joined law enforcement agencies from nearby jurisdictions to help with the cleanup efforts as Kansas Gov. Laura Kelly declared a State Disaster Emergency Friday and toured the damage Saturday.
"One thing is clear - Kansans are resilient and we will get through this together," Kelly said.
Meanwhile, emergency officials urged those who don't need to be in Andover to stay away at this time.
"The City is working as quickly as possible to get things cleaned up, and Evergy is working around the clock to restore electricity," Andover Police officials said. "Please assist us in not coming to Andover unless you absolutely have to. Keeping the traffic at a minimum will help all crews work faster to get our city open again."
HOW METEOROLOGISTS DETERMINE IF A TORNADO IS TO BLAME FOR STORM DAMAGE
After an initial tornado survey Saturday, National Weather Service meteorologists in Wichita believe the tornado's winds were greater than 136 mph, giving the tornado at least an EF-3 rating on the Enhanced Fujita Scale. The tornado was on the ground for more than 20 minutes.
"It's emotionally draining to go through that experience," Becker said. "It's one thing seeing it, but when you're in it, it's way different."
It's only the second tornado to be rated EF-2 or stronger in the state since 2020 as the state had been undergoing a quiet period for strong tornadoes until Friday's storms rolled through.
TORNADO DROUGHT: KANSAS HAS ONLY 1 RECORDED STRONG TORNADO IN PAST 3 YEARS
The Andover tornado was one of 21 tornado reports given to the National Weather Service across Kansas into southern Nebraska. So far, storm survey teams have completed their reports for 7 tornadoes, rating five as EF-1 and two as EF-0.  
EF-1 tornadoes struck Rosalia, Durham, Tampa, Herington and the Wamego-Belvue areas of Kansas.
Two weak tornadoes briefly touched down near Lehigh and Hillsboro a few minutes apart, the first not even lasting a tenth of a mile. NWS storm survey teams rated both an EF-0 on the Enhanced Fujita Scale.
So far, no injuries were reported in any of those tornadoes.
In addition to the tornadoes, large hail was reported in several towns across the Plains. Photos and storm spotters reported hail the size of softballs near Holbrook, Nebraska and Enterprise, Kansas.