IGUANA WATCH: Temperatures could set record lows in Florida
Temperatures on Sunday morning are expected to be in the 20s in the Panhandle and could reach the 30s in South Florida
The coldest air of the year for the Sunshine State stands to serve as a reminder that humans nor animals are exempt from the wrath of Old Man Winter.
Arctic air preceding a cold front will keep high temperatures around 20 degrees colder than average on Saturday for much of the state.
A Hard Freeze Warning was issued for a good portion of the state, while other parts of Florida are under a Freeze Warning.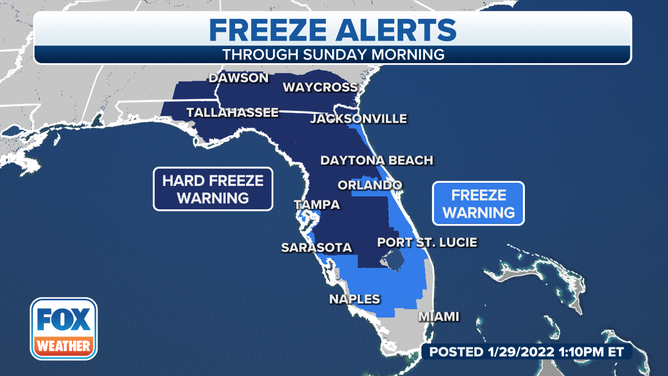 What's the difference between frost, a freeze and a hard freeze?
Meteorologists say the air will get even colder during the morning hours of Sunday, leading to the potential for widespread 20s and 30s from the Panhandle to South Florida.

Sunday's low temperatures will likely be the coldest in several years and could break the daily records in a few areas, prompting homes and apartments to use their heaters for the first time ages. 
WHAT'S THAT SMELL? HEAT SAFETY 101 
The temperatures will be cold enough to slow iguanas down, and even in some areas, cold-stun the creatures enough that residents will have to look up for the chance of these falling critters.

WHEN DO IGUANAS FALL FROM TREES IN FLORIDA?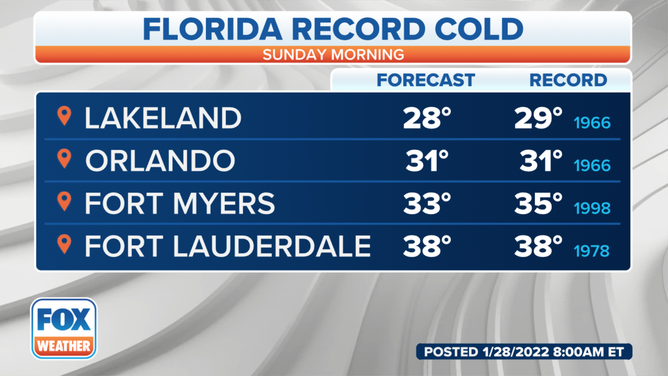 Luckily, the animals' fall from their high perches don't usually harm the lizards, but they do provide quite the site for Floridians.
Meteorologists say the cold air invasion will only be temporary as temperatures are expected to rebound into the 70s and 80s by midweek.