'I lost a part of my history': Mayfield couple's restaurant destroyed by tornado
The restaurant had been in their family for 75 years.

MAYFIELD, Ky. – Wayne and Suzanne Flint don't even recognize the town they've called home their entire lives. After the tornado hit Mayfield, Kentucky, the power went out, and the city was destroyed, including their restaurant that has been in their family for 75 years. 
Immediately after the tornado had passed, they went to check on their restaurant. They couldn't get there by car, so they walked blocks through the debris.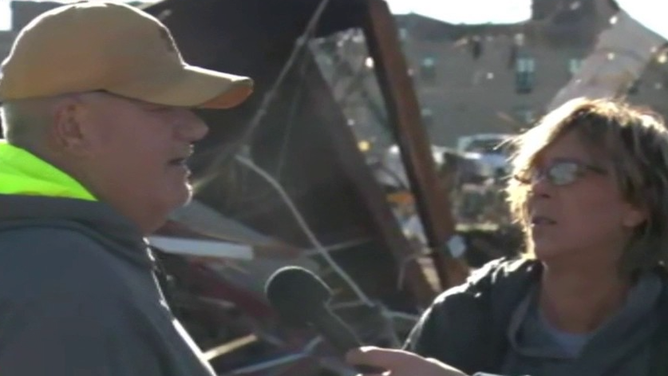 "When we got there, there were still wires crossing the roads and transformers blowing up," Wayne said. "It was like a war zone." 
As they stood in front of what was left of their restaurant, they were shocked. 
"I just couldn't believe it. You know, I've been here my whole life, and I didn't know where anything was, and we're probably like countless others," Wayne said. 
Trying to comprehend what had happened, Suzanne stood there almost speechless. 
"I guess I cry if I talk about it, but I don't know," Suzanne said.
She said that the restaurant, Carr's Barn, was named after her family, and it has been in the family for generations.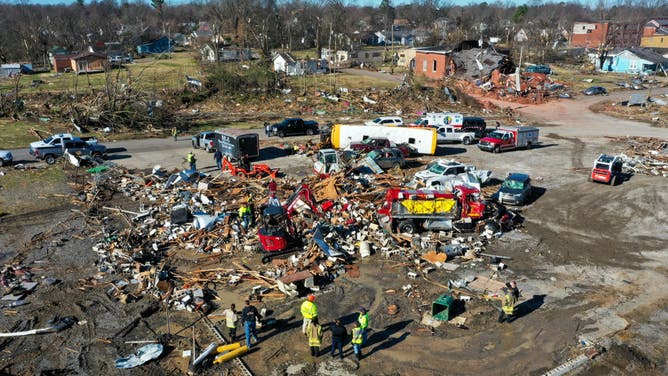 "I know we'll rebuild, but there's so many memories here. My whole family's worked here, and so many of them have already passed. So, you know, I lost a part of my history," Suzanne said. 
Looking at restaurant chairs in the pile of destruction, Wayne says that it's not only their family that works here but others too.
"We had a boy who used to work for me yesterday […] He lost his whole house, and he's got six kids. What's he going to do?" Wayne expressed. "And there's thousands of them like that." 
Wayne says there will be hardships and setbacks, but they will rebuild. 
"There's not enough insurance to do what's got to be done. Today, we're going to start dismantling this, and I'll have a building going up here by Wednesday unless someone tells me I can't." Wayne said. "We got to make a living somehow." 
While Wayne gets to building, Suzanne is looking for help elsewhere. 
"My wife started a GoFundMe page… I don't even know what that means," Wayne said. "Nobody's ever helped me doing anything." 
With more than already a couple of thousand dollars raised, I am sure Wayne will become quite familiar with the fundraising site. 
But Wayne has hope, "All I see is people willing to help from everywhere." 

As of Sunday morning, the National Weather Service has given the Mayfield tornado a preliminary EF-3 rating. Surveys will continue for days to come as crews continue to comb through the devastation.