Trouble in paradise: Fires rage across Hawaii as Hurricane Dora aides in spread of flames
Several brush fires ignited on Maui and Hawaii's Big Island, forcing evacuations. Winds are expected to decrease as the hurricane pulls away from the islands, but drought conditions will remain.
HONOLULU – Even with Hurricane Dora passing around 500 miles south of Hawaii, the combination of gusty winds and drought conditions set up the island chain for some of the most conducive fire weather that locals said they have ever seen.
On Tuesday, brush fires were reported on several islands, including Maui and the Big Island, as wind gusts of more than 70 mph helped spread the flames.
Local authorities said several structures were damaged, and hundreds of homes were evacuated due to the proximity to the fires.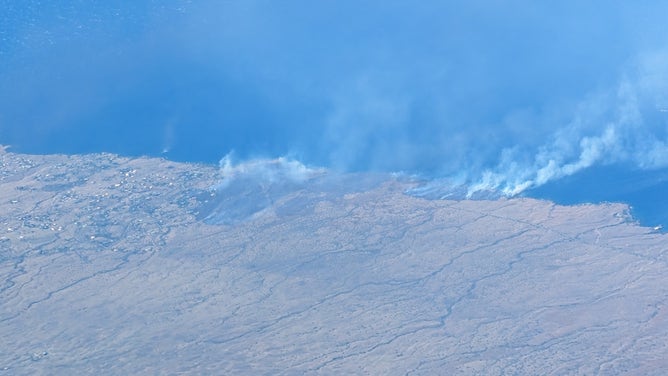 Firefighters' efforts also appeared to be hampered by the strong winds that caused aircraft to be grounded for safety precautions.
During the firefight, the Department of Water Supply urged residents to conserve water because power outages were impacting its ability to pump the resource to important locations.
While the cause of many of the brush fires remain under investigation, the combination of downed power lines and dry brush was being examined as possible causes of some of the fires.
CAN TROPICAL CYCLONES MAKE IT ACROSS THE ENTIRE PACIFIC OCEAN?
The latest U.S. Drought Monitor report for the country's 50th state showed around 30% of counties experiencing either abnormally dry or drought conditions.
In advance of the gusty winds, the local National Weather Service office issued a series of alerts, including a Red Flag Warning, alerting residents to the critical fire weather conditions.
"A combination of strong winds, low relative humidity, and warm temperatures can contribute to extreme fire behavior," the NWS said.
One of the larger fires was burning on the northern part of the Big Island, where more than 1,800 acres had been destroyed.
Hawaii's acting governor issued an Emergency Proclamation on Tuesday evening, which promised resources to hard hit Maui and Hawai'i counties.
RETIRED HURRICANE NAMES STILL IN ROTATION DESPITE THEIR DISASTROUS HISTORY
Windy conditions are expected to relax as the gradient between the ridge of high pressure and Dora lessens over the next few days.
The hurricane did not produce any rainfall across the islands which observed extremely dry, sinking air.
According to the NWS, large stretches of reduced moisture are common during El Niño events.
As the calendar flips from meteorological summer to fall, forecasters are optimistic that trade winds will enable moisture and associated shower activity to return.
Tracking Hurricane Dora
(FOX Weather)
---