Indirect impacts from Hurricane Lee start Sunday along US coastline in form of dangerous surf and rip currents
Hurricane Lee became the strongest cyclone of the 2023 season on Thursday, with maximum sustained winds of 165 mph and a minimum central pressure of 926 millibars. The National Weather Service office that covers the Outer Banks in North Carolina expects additional coastal hazards to increase later in the workweek, which could include beach erosion, large waves and overwash.
As Hurricane Lee slowly churns towards the western Atlantic, the power of having a once Category 5 cyclone in the basin has already set in motion higher-than-normal seas that are expected to reach U.S. shores by Sunday.
Powerful hurricanes passing within 1,000 miles of the U.S. coastline are known to increase the risk of rip currents and create rough surf, which can cause dangerous beach conditions for swimmers.
The U.S. recently experienced an uptick in rough water over the Labor Day weekend with storms such as Franklin and Idalia off the eastern seaboard, but Hurricane Lee's impacts promise to be potentially more significant.
Higher than-average swells are expected to be seen along beaches in Florida and North Carolina on Sunday and will gradually expand through the upcoming week.
CATEGORY 4 HURRICANE LEE LIVE TRACKER: SATELLITES, SPAGHETTI COMPUTE MODELS, CONE OF CONCERN AND MORE
Forecast computer models for Hurricane Lee
(FOX Weather)
---
HURRICANE LEE NOW POWERFUL CATEGORY 4 STORM AS IT BARRELS THROUGH ATLANTIC WITH EVENTUAL PATH UNCERTAIN
Throughout the workweek, seas and surf will increase from Florida through the mid-Atlantic and into the Northeast.
"Where it exactly starts to turn has a lot to do with where it ends up, how it affects Bermuda and how close it comes to the U.S. East Coast. So that's going to be what we're going to be watching for all the way - talking about five days from now," said FOX Weather hurricane specialist Bryan Norcross.
The National Weather Service that covers much of coastal North Carolina is expecting waves to reach at least 6 feet on Tuesday, with much higher surf predicted mid to late week.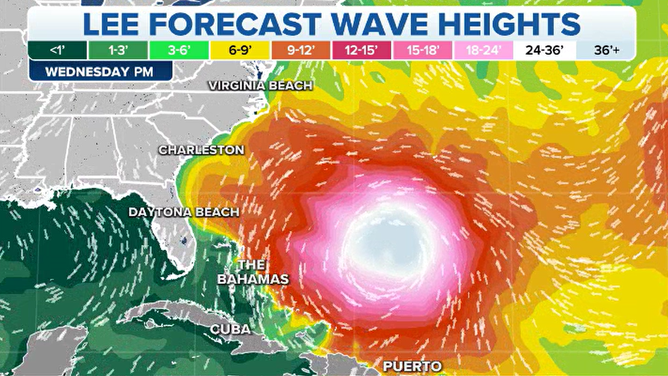 The combination of the new moon and higher seas could lead to significant beach erosion and overwash, especially on islands with southeast-facing beaches.
"Details on the severity of impacts is dependent on the eventual track, intensity, and size of Major Hurricane Lee over the next several days," NWS meteorologists said.
A similar-sized cyclone in 2009 named Hurricane Bill passed off the East Coast by several hundred miles but produced waves upwards of 20 feet along some coastal communities, leading to beach closures and significant erosion.
Without knowing the exact forecast track of the powerful hurricane, marine impacts are guaranteed, with any rains and winds remaining offshore in the best-case scenario.
The addition of data collected by Hurricane Hunter aircraft is expected to help narrow down potential paths over the next few days and lead to a more accurate forecast cone.
"Long-period swells will cause extensive wave run-up with the potential for extensive beach erosion, ocean overwash, and coastal flooding. Additionally, deadly rip currents and powerful shore break will create dangerous surf conditions across NC beaches," North Carolina Emergency Management said.
In addition to the impacts on beachgoers and coastal properties, the U.S. Coast Guard has alerted fishermen and boaters of the increased threats in the waters along Puerto Rico, the U.S. Virgin Islands and will likely expand their messaging northward as the storm moves closer.
"We are concerned about people and boaters who may underestimate the impacts of this passing storm, Capt. José E. Díaz, Coast Guard Sector San Juan commander said in a statement. "The increase in projected sea states of 10 to 15-feet severely reduces our ability to respond to a maritime distress with the full use of our resources. Make the best decision for you and your loved ones and enjoy a safe weekend, monitor marine weather forecasts and heed National Weather Service advisories."
Ports along the Caribbean Islands are operating under Condition X-Ray, which means facilities remain open to vessels, but operators are reminded to review their heavy weather response plans and be ready to make preparations if conditions worsen more than immediately forecast.
Forecast computer models for Hurricane Lee
(FOX Weather)
---