Hurricane Idalia's landfall in Florida during full Moon will increase storm surge threat
The full Moon happens Wednesday night. The FOX Forecast Center has forecast peak storm surge impacts from Idalia to happen Wednesday morning along the Gulf Coast.
TAMPA, Fla. – Hurricane Idalia's storm surge will pack a one-two punch as landfall is forecast to happen on Florida's Gulf Coast during a full Moon and high tide for some areas.
Physical oceanographer Gary Mitchum with the University of South Florida's College of Marine Science studies sea level rise projections and flooding risk, including storm surge. 
Mitchum explained that high tides can play a role in storm surge flooding impacts from tropical systems such as Hurricane Idalia. 
The National Hurricane Center has issued Storm Surge Warnings from Florida's Big Bend to Tampa Bay. 
The full Moon happens Wednesday night. The FOX Forecast Center has forecast peak storm surge impacts from Idalia to happen Wednesday morning along the Gulf Coast. 
HURRICANE IDALIA TIMELINE TRACKER: WHEN AND WHERE TO EXPECT IMPACTS IN FLORIDA
"We're presently having our highest spring tide of the year," Mitchum said about the Tampa Bay area. "We're at a stage right now where we've got both going on, where it's not only a full Moon, but it's also one of our highest spring tides of the year."
A full Moon brings the highest tides.
"When we have a full Moon, what that means is the Sun and the Moon and the Earth are all lined up. So you get the highest tides because the Sun tide and the Moon tide add up," Mitchum said.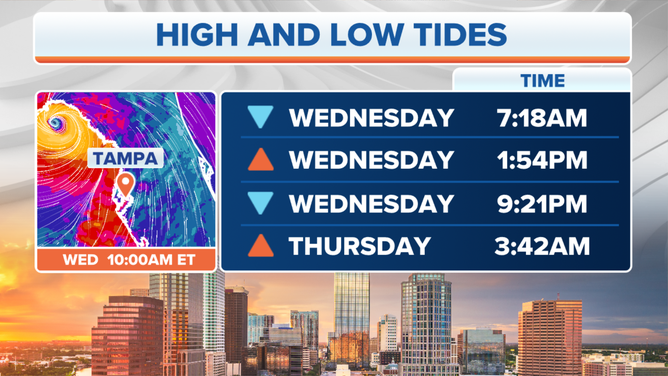 St. Petersburg is forecast to see 2-3 feet of storm surge from Idalia. With high tide, Mitchum said, add 2 feet to that. The opposite can be said about low tide – minus 2 feet. 
The National Hurricane Center Storm Surge Flooding Map does include some margin. The flooding levels indicate water height that has a 10% chance of being exceeded and a 90% chance of being less than the forecast levels.
The FOX Weather map below includes the average tide levels for the projected storm surge.
HURRICANE IDALIA TRAVEL IMPACTS TRACKER: AIRPORT CLOSURES, FLIGHT DELAYS INCREASING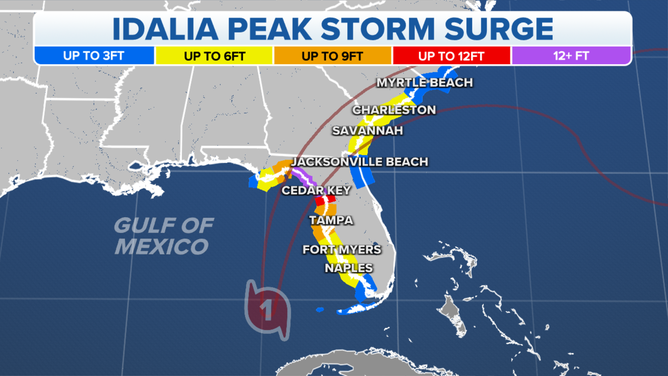 As the cone of uncertainty becomes more certain landfall will happen somewhere along Florida's Big Bend, Idalia's arrival will be unprecedented for the region.
According to the National Weather Service in Tallahassee, a Category 3 hurricane has never entered Apalachee Bay in recorded history. 
The NHC forecast for Idalia includes a storm surge of more than 9 feet above the ground for areas including Keaton Beach, Steinhatchee and Swanee. 
KNOW YOUR ZONE: FLORIDA EVACUATION MAP SHOWS WHO WILL HAVE TO LEAVE BEFORE A HURRICANE STRIKES
According to NOAA's tide data from Cedar Key, Florida, high tide happened at 1:58 a.m. local time Tuesday with a 3.36-foot water height. During low tide at 6:53 a.m. the water measured 1.95 feet. Another high tide happened at 12:44 p.m. with 4.57 feet of water height. 
Tides may not be as much of a factor if Idalia makes landfall in Big Bend as a major hurricane.
"The place where tides are most important is not for these very huge storm surges," Mitchum said. "If you have a 15- to 30-foot storm surge, then that's going to be devastating regardless of what the tide is."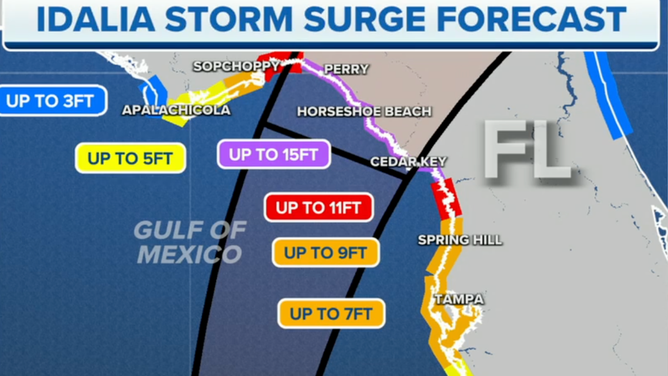 The latest forecast includes catastrophic storm surge between 10 and 15 feet north of Yankeetown.
Officials have ordered evacuations in at least 25 counties in Florida as a life-threatening storm surge looms, including Taylor, Dixie, Levy and Leon counties in the Big Bend.
"If I was in that area, I wouldn't be there," Mitchum said.