Air Force disciplines Hurricane Hunter crew for unplanned stop to pick up vintage motorcycle
Super Hercules aircraft fly weather reconnaissance missions, providing data to the National Hurricane Center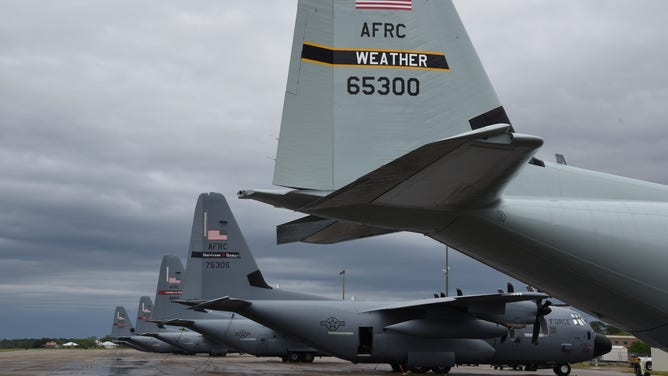 The crew of a Hurricane Hunter airplane has been punished by the Air Force after the aircraft was used to run an errand earlier this year.
In March, the 403rd Wing confirmed the plane, which is used to collect data on hurricanes, made the unplanned visit to Martha's Vineyard Airport in Massachusetts while on a training mission in nearby Rhode Island.
The 53rd Weather Reconnaissance Squadron is part of the 403rd Wing at Keesler Air Force Base in Biloxi, Mississippi. The unit flies missions using the WC-130J Super Hercules aircraft and provides data on tropical systems to the National Hurricane Center in Miami.
INSIDE THE 'FLYING LABORATORY' USED BY NOAA'S HURRICANE HUNTERS
On March 25, an Air Force Reserve crew with the 53rd Weather Reconnaissance Squadron made an unscheduled stop at Martha's Vineyard Airport, according to a statement from 403rd Wing Public Affairs superintendent Master Sgt. Jessica Kendziorek.
According to the news release, the stop was to pick up a 1970 BMC R75/5 motorcycle belonging to a crew member. The crew then continued on their mission to Mather, California, to pick up 403rd Wing equipment staged there for atmospheric river mission support.
The crew was grounded on March 27 and an investigation was launched when leadership was notified about the stop in Martha's Vineyard. Another crew was sent to pick up the aircraft and crew the following day, according to the news release.
Air Force officials said Tuesday the crew members responsible for the unplanned stop were downgraded on aircrew qualification for the misuse, and administrative punishments have been served.
"Air Force Reserve crews must put in flight training time each month to keep their qualifications, and off-station training achieves valid training requirements," Col. Stuart M. Rubio, 403rd Wing commander, said in a statement. "This personal stop was an abuse of government assets. We hold our reservists to the highest standards of conduct and these actions are not tolerated."
The vintage motorcycle is still in California, according to the news release.