Hurricane Andrew timeline: On this day, August 17, 1992
Tropical Storm Andrew, the first storm of the 1992 Atlantic hurricane season, was named 30 years ago this morning.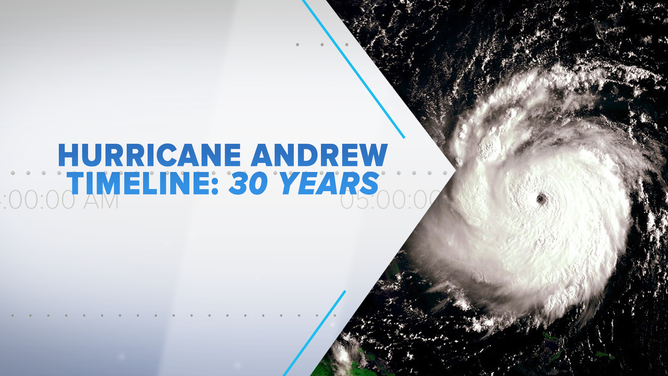 It was 30 years ago this morning – 11:00 AM on Monday, August 17, 1992 – that the headline in the Public Advisory from the National Hurricane Center said, "FIRST TROPICAL STORM OF THE SEASON FORMS IN THE TROPICAL ATLANTIC." Tropical Storm Andrew was named.
When the sun came up over the eastern Atlantic, it was clear that the system had become better organized overnight.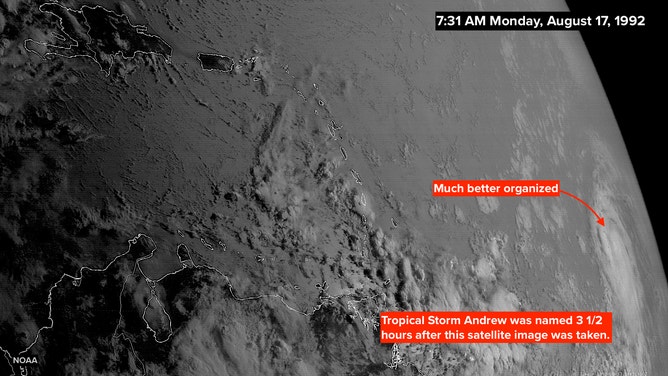 READ YESTERDAY'S POST FOR THE HURRICANE ANDREW TIMELINE: AUGUST 16, 1992
Andrew was just over 2,500 miles from Miami, and unbeknownst to us in South Florida, a little less than 7 days from landfall. That Monday, it was a 40-mph tropical storm in the middle of the Atlantic Ocean. No big deal.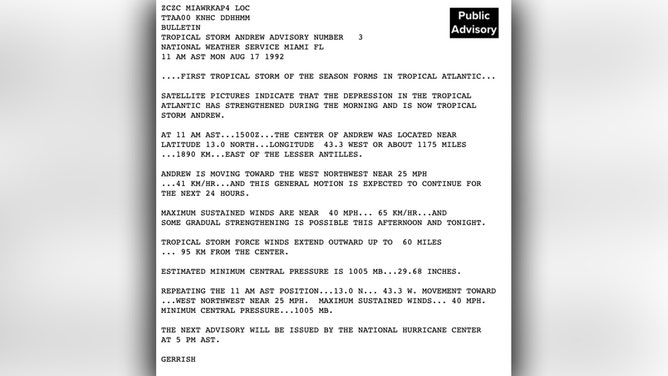 In the non-public Technical Discussion issued with the advisory, National Hurricane Center forecaster Hal Gerrish noted that thunderstorms had formed on the eastern side of the circulation, which was a sign that the upper-level winds had become a bit less hostile.
The forecast called for slow strengthening with a track in the general direction of the northeastern Caribbean islands.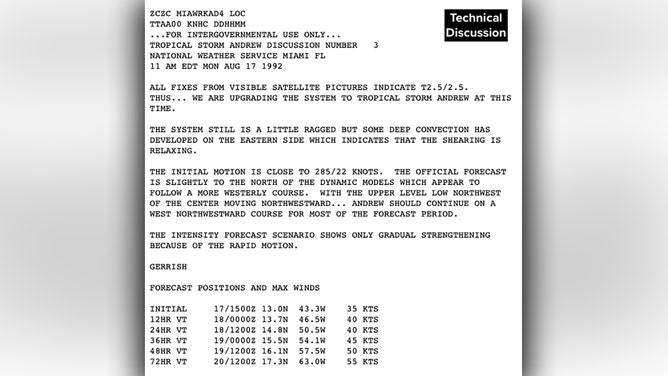 Three decades ago, renowned hurricane specialist Bryan Norcross did a 23-hour marathon broadcast as Hurricane Andrew slammed into the Florida coast. His broadcast was the only one to stay on the air and many people's only link to the outside world during the worst of the storm.  He is credited with saving countless lives due to his life-saving advice. Now, 30 years later, Bryan will re-live the storm that devastated South Florida and look at the infrastructure changes that resulted. Watch The Wrath of Hurricane Andrew: Tragedy and Triumph on FOX Weather, premiering August 23rd and 24th at 10 P.M. EDT. 
HOW TO WATCH FOX WEATHER ON TV
FOX Weather Hurricane Specialist Bryan Norcross has a podcast, Tracking the Tropics with Bryan Norcross, available now on FOX News Audio. You can get it on your device by clicking here.