Hundreds of flights canceled at Charlotte airport as winter storms spins north
Most airlines plan to resume full operations by afternoon, airport officials say.
CHARLOTTE, N.C. – Hundreds of flights were canceled Monday morning at Charlotte Douglas International Airport after a winter storm pummeled the region over the weekend.
The storm coated the Charlotte area in snow and ice prompting many airlines to call off flights to and from the airport starting on Saturday.
While Charlotte's airport remained open, there were more than 400 cancellations and nearly 100 delays as of Monday morning, according to FlightAware.com.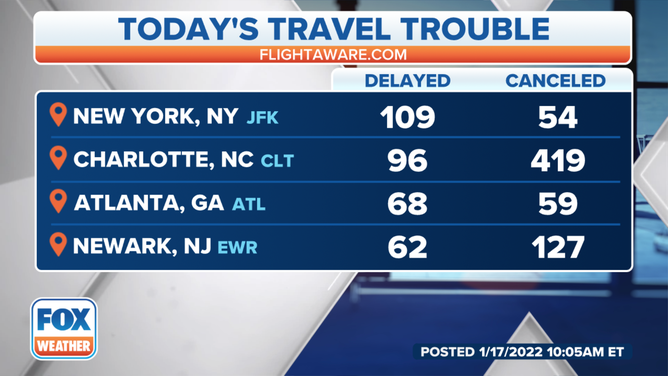 Airport officials said most airlines planned to resume full operations by Monday afternoon, but they encouraged passengers to check with their airline for updates on the status of their flight.
Officials also encouraged anyone traveling to the airport to watch for black ice on roadways.
The storm has made its way into the northeast U.S., where it is causing some trouble at airports in that region. FlightAware.com's Misery Map showed headaches for travelers in both New York and Washington, D.C.