Hot, dry weather across Northern California increases fire weather danger
The heat is not expected to last long as temperatures look to return to near average to potentially below average over the Memorial Day weekend
The hot and dry weather across Northern California will increase the fire weather danger through Wednesday morning.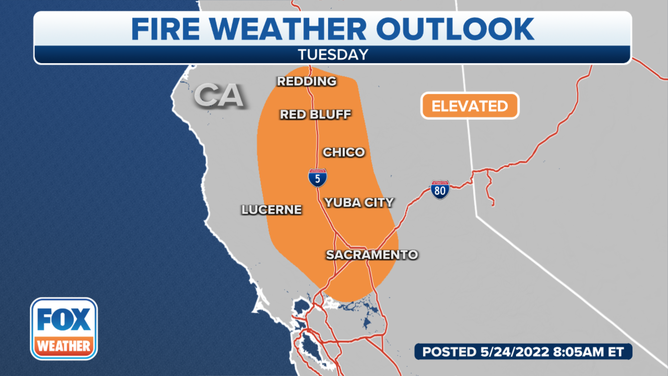 Fire Weather Warnings have been posted across the northern Sacramento Valley until 11 a.m. Pacific time Wednesday due to northerly winds gusting as high as 35 mph and minimum daytime humidity levels in the single digits at times.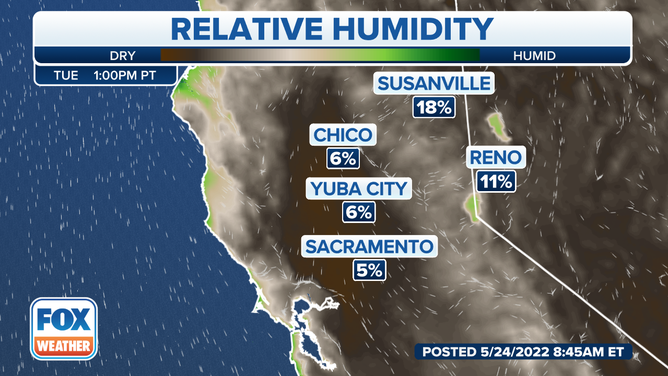 Over much of western New Mexico, breezy conditions with low relative humidity values will also support a critical fire risk on Tuesday. This comes as a ridge of high pressure builds in the West allowing for temperatures to soar well above average. The heat in California expands east into the Rockies by Wednesday.
HOW TO WATCH FOX WEATHER ON TV
Heat alerts have been issued for the San Joaquin Valley, the Kern River Valley and the Sacramento Valley for Wednesday as heat index values near 100 degrees are possible.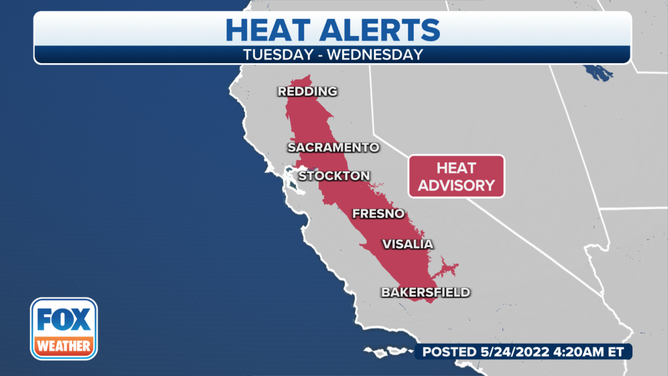 A few record highs are possible on Wednesday as highs soar over 100 degrees.
HOW TO TELL THE DIFFERENCE BETWEEN HEAT EXHAUSTION AND HEATSTROKE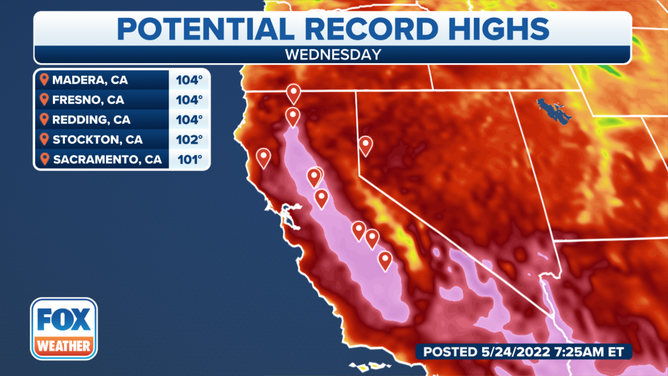 High temperatures in Fresno, Hanford and Madera will likely break daily records for maximum temperatures ever measured in those locations on May 25, the National Weather Service said.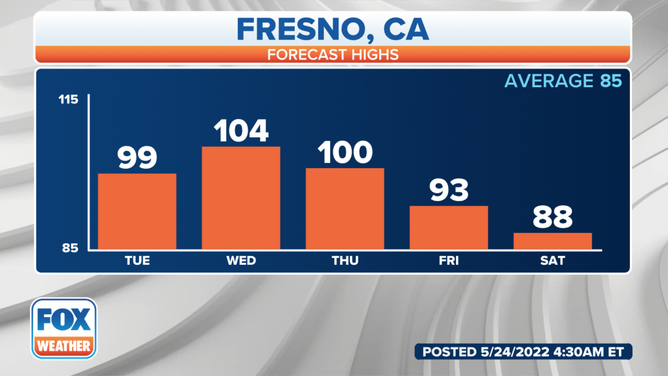 However, the heat is not expected to last long. The NWS in Sacramento said temperatures look to return to near average to potentially below average over the Memorial Day weekend.
CLICK HERE TO GET THE FOX WEATHER UPDATE PODCAST
Be sure to download the FOX Weather app for the latest forecast and weather alerts for your exact location, plus the 24/7 livestream of America's Weather Team.