Homes, lives under flood threat as atmospheric river slams Pacific Northwest -- again
An atmospheric river event is dumping tremendous amounts of rain across western Washington and northern Oregon, threatening major flooding on some of the region's larger rivers
SNOQUALMIE, Wash. – There have been some sleepless nights for residents in the Pacific Northwest after the record rains in October. Now, a new wet weather set-up has homes and lives under flood threat again.
A first atmospheric river event that dumped tremendous amounts of rain across western Washington and northern Oregon, sending several rivers above flood stage, has moved away but now attention turns to a second atmospheric river set to do a soaking encore.
Forecasts show potential for 7-9 inches of new rainfall in Washington's Olympic Mountains and northern Cascades and 3-5 inches in the central Cascades. The lowlands could see another 1-3 inches of rain to add to the soggy month so far. 
Locations in higher elevations have already recorded more than 11 inches of rain over the past few days. All that water needs to go somewhere, and that's resulting in rising creeks, streams and rivers.
River flooding is still in progress and multiple Flood Warnings have been issued. The National Weather Service in Seattle said as many as 20-24 river gauge forecast points across Western Washington will likely be on Flood Warning during the event. Water levels at over river gauges are currently or are expected to approach or exceed flood stage throughout the weekend.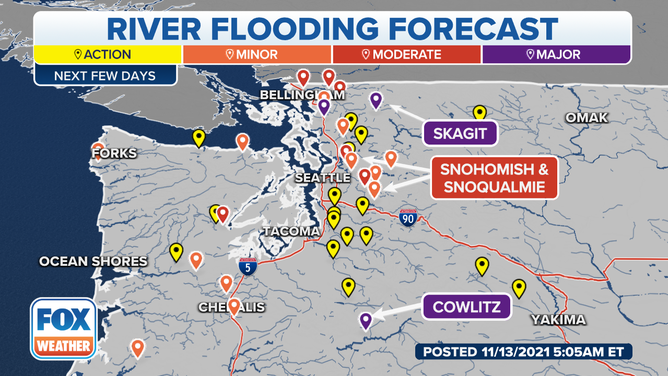 The Snoqualmie River, east of Seattle, crested just over 57 feet on Saturday which classifies as nearly a major flood. The Skagit River, north of Seattle, crested just under moderate flood stage Saturday but was threatening to flood again and reach major flood status – possibly near-record stage – on Tuesday as more rain was expected. 
In Seattle, 5.05 inches of rain has been recorded so far for this month. The average is 2.43 inches. Plus, they had an above-average month last month with the rainfall as well.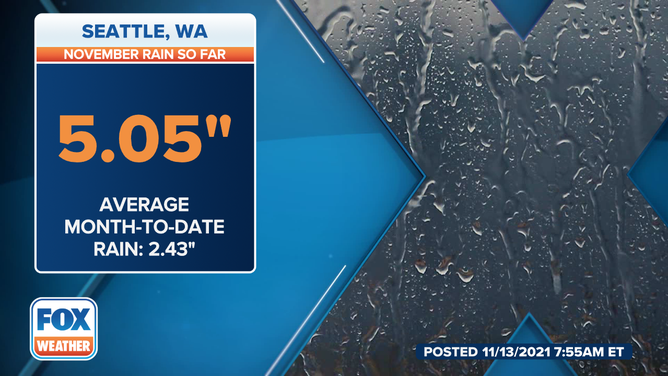 On Friday, a very serious situation unfolded at an RV park along Neskowin Creek in Tillamook County, Oregon. The U.S. Coast Guard responded to the scene to help people trapped by floodwaters arriving with two helicopters. They rescued 20 stranded campers in need of immediate assistance along with their animals and took them to a nearby school. So far, no injuries have been reported. 
Rainfall totals have ranged from 5-7 inches so far in the coastal Oregon lowlands with one gauge recording over 11 inches in the higher elevations.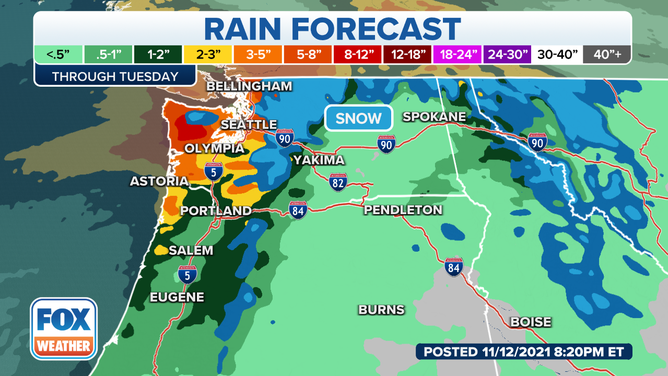 A brief dry break is relieving some pressure on the rivers but another heavy rain event was expected Sunday into Monday.