Historic April snow in Portland snarls commute, cuts power to over 120,000
So far, about a half-inch to an inch fell around parts of the Portland metro area, with up to 3 inches of snowfall farther north along Interstate 5 past Vancouver, Washington.
PORTLAND, Ore. -- The calendar says April but the scenes around northern Oregon and southwestern Washington screams more like January.
A rare and record snowfall covered the lowland areas of Portland's Willamette Valley and Vancouver, Washington region Monday morning, snarling the morning commute, delaying schools and knocking out power to over 120,000 people.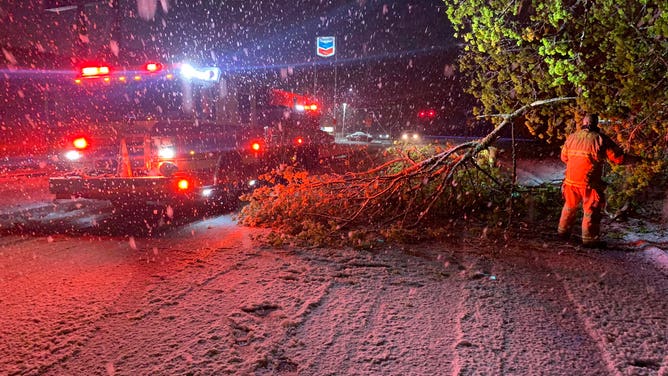 About 1-3 inches fell around parts of the Portland metro area, with up to 4-7 inches of snowfall farther north along Interstate 5 past Vancouver, Washington and up to 10 inches in the higher elevations west of the Willamette Valley.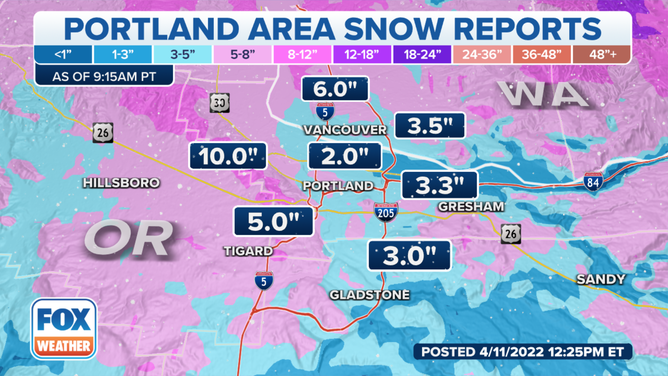 Several roads were blocked by falling trees around the Portland area as heavy, wet snow proved too much to bear.
"In addition to snow-covered roads, we're seeing trees and branches down throughout the city, due to the wet, heavy snow and newly-leafing branches," the Portland Bureau of Transportation tweeted. Downed limbs blocked the rails delaying service for Portland's Streetcar routes.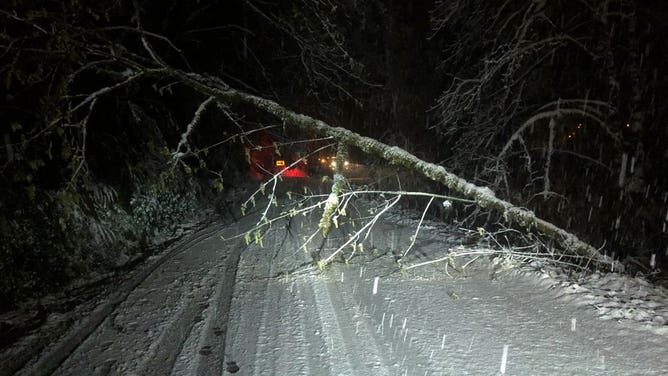 Busy Highway 26 along the western hills of Portland was blocked for several hours Monday due to multiple tree falls. Tree falls spread into southwestern Washington, blocking State Route 4 just after 5 a.m. and then SR-14 suffered a similar fate later in the morning. 
"Downed trees and collisions through the region," the Washington State Department of Transportation tweeted for its Southwest Region. "Plows have been deployed to treat snow-covered and icy roadways."  
Multiple displaced semis blocked Interstate 5 near the Toutle River Rest area, about 50 miles north of Portland, according to WSDOT.
Latest Measurable Snow in Portland at PDX
For Portland, the storm brought the first-ever measurable snow in April at its official measuring location of Portland International Airport. The latest measurable snow there had been March 25, 1965, but the airport measured 1.6 inches of snow.  Records there go back to 1940.  The city did record some measurable snow at its Downtown location in 1936, according to the National Weather Service. 
"Snow in April. Schools are delayed. Nothing makes sense anymore," Michael Ober with FOX 12 Oregon tweeted with bewilderment Monday morning. "Going to need a large hot chocolate to process this."
Winter Weather Advisories remain in effect for northwestern Oregon and southwestern Washington until late Monday morning but temperatures are forecast to warm into the 40s by Monday afternoon, quickly melting away this rare April snowfall.
Winter Weather Warnings in the West.
(FOX Weather)
---
More Snow in the West
But while the Portland area will quickly melt out, the storm isn't done painting the West in a coating of white. 
Additional snow will fall across Eastern Oregon and Eastern Washington into the northern Rockies into Tuesday with the threat of impactful snowfall to the northern/central Rockies and High Plains of Wyoming and Montana. 
BLIZZARD WARNINGS ISSUED AS LATE-SEASON WINTER STORM BRINGS SNOW, HIGH WINDS TO ROCKIES, NORTHERN PLAINS
More than a dozen potential record cold morning lows are possible on Tuesday. The National Weather Service in Missoula, Montana, said most valleys will drop into the 20s each night, but teens and even single digits are possible on clear mornings.