Hidden dangers exist after snow melts
Black ice is typically prevalent after melting snow has a chance to refreeze overnight.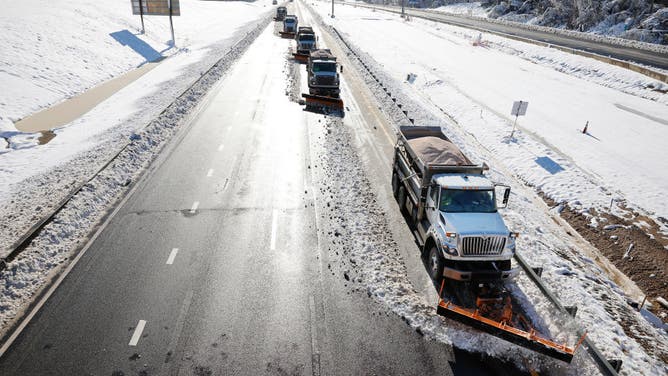 Officials in areas of the Mid-Atlantic and Northeast that recently were pummeled with snow are warning drivers that may encounter ice over the next several days as cooler nighttime temperatures provide the opportunity for water to refreeze on roadways.
The refreezing of melting snow on roadways is typically referred to as black ice.
The National Weather Service warns that black ice is usually clear and can be dangerous to drivers because of its reduced visibility.
7 THINGS TO KNOW ABOUT ICE STORMS
The Virginia Department of Transportation says they are aware of the threat and are encouraging drivers in the recently impacted snow zones to avoid unnecessary travel to reduce the chance of a run-in with the ice.
VDOT is currently treating roadways with a mix of sand and salt to reduce ice forming on the roads.
NWS meteorologists say one of the primary ingredients to see ice form are daytime temperatures that allow the snow to melt, leaving behind a slush or even puddles. 
During the usual cool down overnight, if temperatures drop to or below 32 degrees Fahrenheit, the remnants of the snow can refreeze.
Forecast models show that the threat of ice forming overnight exists for areas from Virginia into the Northeast.
How to drive on ice
Travel experts with the AAA warn that black ice is most commonly found on shaded areas, roadways that are infrequently used and on bridges and overpasses.
AAA says if you must be out, try to avoid changing lanes.
A reduction in lane changes can decrease your chances of driving over icy spots that can form in less used areas of a roadway.
7 THINGS YOU NEED TO KNOW ABOUT WINTER DRIVING
If you encounter ice, drivers are urged to never use the brakes and instead try to control the skid.
During the skid, experts say it is best to ease off the accelerator or brake and steer the car in the direction you want to go.
The AAA says it is most important that drivers stay alert during winter weather and give yourself at least three times more space than usual between you and the driver ahead of you.