Hello, Agatha? Tropical system could form in Eastern Pacific
The last time the Eastern Pacific had a tropical storm in January was in 1992
Forecasters with the National Hurricane Center have been keeping an eye on an area of showers and thunderstorms in the Eastern Pacific that could briefly form into a subtropical or tropical system by the weekend.
However, the NHC says Invest 90-E, located about 1,000 miles to the east-northeast of Hilo, Hawaii, has become less organized on Friday.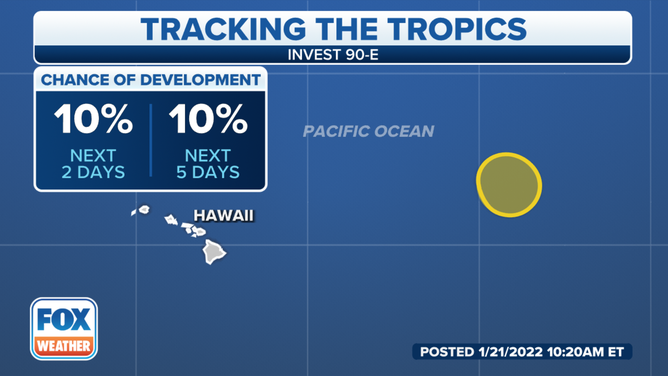 Forecasters say conditions are now unfavorable for further development, so it's unlikely to develop into a subtropical or tropical system.
In the outside chance that it briefly develops, the storm would be called Agatha – the first name on the 2022 tropical cyclone list.
No impacts are expected in Hawaii as the system is projected to track southeast of the Aloha State.
The last time the Eastern Pacific had a tropical storm in January was in 1992.