Heavy snow falls in mountains of Colorado, Utah, Wyoming on Tuesday
Up to 10 inches of snow has fallen in northern Utah
An early-season winter storm was dumping heavy snow in the mountains of Colorado, Utah and Wyoming on Tuesday as rain soaked the lower elevations of the region.
Up to 10 inches of snow was reported at northern Utah's Snowbasin Resort, some 40 miles north of Salt Lake City on the backside of the Wasatch Range. According to the National Weather Service, the snow was falling at the rate of an inch per hour Tuesday morning, which made for a stunning time-lapse from the ski resort.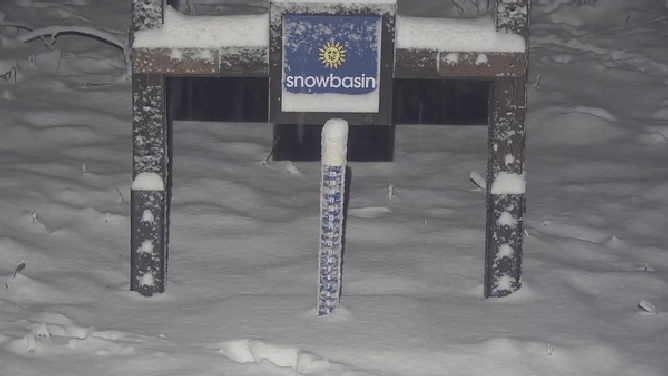 About 25 miles southeast of Salt Lake City, snow was also seen piling up in the heart of the Wasatch National Forest at the Snowbird ski resort, where 8 inches of snow was measured early Tuesday.
The Utah Department of Transportation was working to plow the roads but encouraged motorists to travel with caution because of the slick conditions.
In Evanston, Wyoming, just over the border from northern Utah in the foothills of the Uinta Mountains, traffic cams showed near-whiteout conditions in the heavy snow early Tuesday morning. 
Picturesque snowy scenes were also photographed Tuesday in Breckenridge, Colorado, a popular destination for skiers in the heart of the Rocky Mountains.
Periods of mountain snow and lower-elevation rain are expected to continue in this region through Wednesday morning.
Winter Storm Warnings are posted for parts of Wyoming, including the Wind River and Big Horn mountain ranges, where a total of 1 to 2 feet of snowfall is expected. Additional light accumulations are also possible from Utah's Wasatch and the Colorado Rockies to the Black Hills of South Dakota, where Winter Weather Advisories are in effect.