'The water was rising rapidly': Heavy rains trigger flooding in North Dakota, Minnesota
The Red Lake River near Crookston flooded a few homes after a river bank gave way in the hours after drenching thunderstorms moved through the region.
CROOKSTON, Minn. – Heavy rains carried by strong thunderstorms pushed rivers in eastern North Dakota and northwestern Minnesota above their banks over the weekend, flooding roads and a few homes and sending residents scrambling to fill sand bags to keep the rivers at bay.
The worst flooding appears to be on the Red Lake River in Crookston, Minnesota, where waters crested about 4 feet over major flood stage Sunday evening.
"We've been experiencing just about every weather pattern between thunderstorms, tornadoes, snow," Crookston resident Karen Swatlowski told FOX Weather.  Swatlowski said a thunderstorm on Saturday dropped heavy rains that caused the river to rise. Radar estimated as much as 3-4 inches of rain fell during the storm, according to the National Weather Service office in Grand Forks, North Dakota.
(FOX Weather)
---
"Sunday, the riverbank gave way and flooded a whole open space across the road from me where there are a couple of homes down there," she said.
The flooding also covered several roads, washing out at least one and prompting the closure of several others, according to the Minnesota Department of Transportation.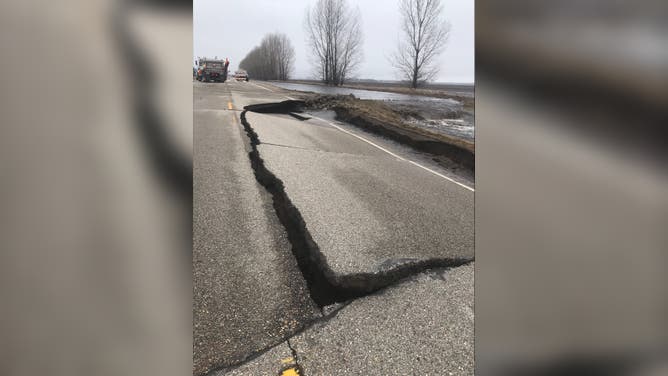 "The water was rising very rapidly -- I was watching it through the day (Sunday)," Swatlowski said.
Minnesota Gov. Tim Walz authorized the state's National Guard to send troops to help with the flood fighting efforts, according to FOX 9 in Minneapolis. 
(FOX Weather)
---
The river crested at 27.07 feet late Sunday and was starting to recede, dropping a little more than a half a foot by late Monday morning.
"(The water) reached my neighbor's driveway and then stopped. And then waking up (Monday) morning, it has receded a little bit so I'm safe, and I'm very thankful for that."
Flood Warnings remain in effect for the Red Lake River into Wednesday, part of multiple flood warnings in the region. Flooding is nothing new to the region but each time Swatlowski says it's heartening to see her neighbors band together.
(FOX Weather)
---
"You really see the sense of community from not just our community, but surrounding communities, from the Minnesota National Guard," she said. "Just all kinds of help and will wishes from basically all over."