Heavy rain threat triggers 'moderate risk' of flash flooding in Southeast
Roads along the Gulf Coast were closed due to flooding Tuesday morning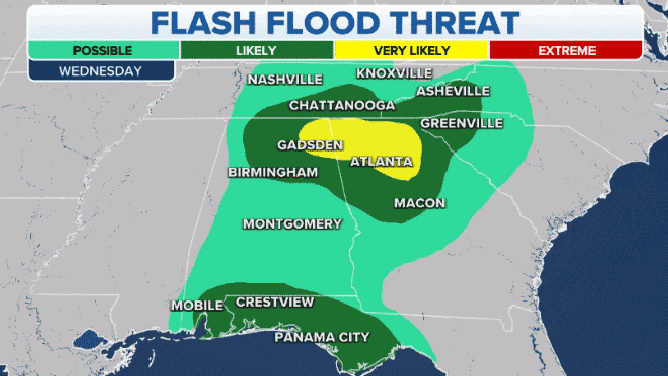 Heavy rain will trigger flash flooding across the Southeast through Friday as waves of low pressure develop along a stalled front situated from the Gulf Coast to the central Appalachians.
Pensacola, Florida, received 8.23 inches of rainfall Monday, which led to flash flooding on several roads in the area. Pensacola Police tweeted that portions of some roads in downtown Pensacola were closed due to flooding early Tuesday morning. Flash Flood Warnings were in effect until 5:45 a.m. Central time.
That wasn't enough rain to set a daily record for Oct. 4, which was 10.45 inches from Hurricane Opal in 1995, according to the National Weather Service. However, it was good enough for Pensacola's fourth-wettest October day on record and its 17th-wettest day of all time.
Columbus, Georgia, picked up 5.24 inches of rain Monday, which ranked as the city's wettest October day on record, according to the Southeast Regional Climate Center.
Flash flooding was reported early Tuesday in southern Alabama. Video shared on social media showed water rushing over a roadway in Fairhope, Alabama, to the southeast east of Mobile.
Rounds of heavy rain will likely trigger additional flash flooding over the next several days as the front remains stalled across the Southeast through the end of the week.
Flash Flood Watches are in effect from southern Middle Tennessee into much of Alabama, North and Middle Georgia and the Florida Panhandle.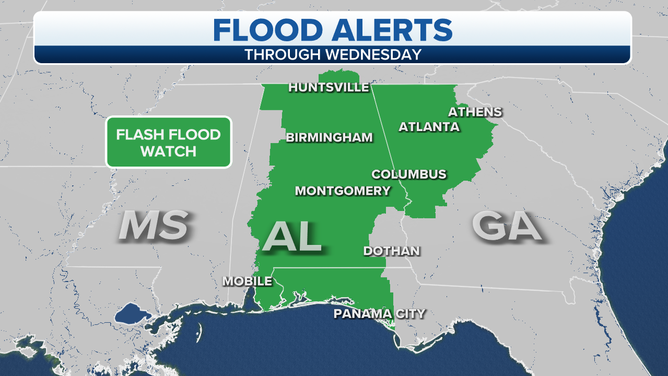 NOAA's Weather Prediction Center has hoisted a moderate risk (level 3 of 4) of excessive rainfall for Tuesday along the eastern Gulf Coast from Alabama's Mobile Bay to the Emerald Coast of Florida.
A larger slight-risk area (level 2 of 4) covers much of Alabama, southern Middle Tennessee, North and Middle Georgia, western South Carolina and southwestern North Carolina.
Portions of the eastern Gulf Coast have already received 6 to 8 inches of rain in the past 48 hours, with the WPC expecting another 2 to 4 inches along the Alabama and Florida coasts on Tuesday. Rapid runoff and flash flooding will likely occur with these additional heavy rains.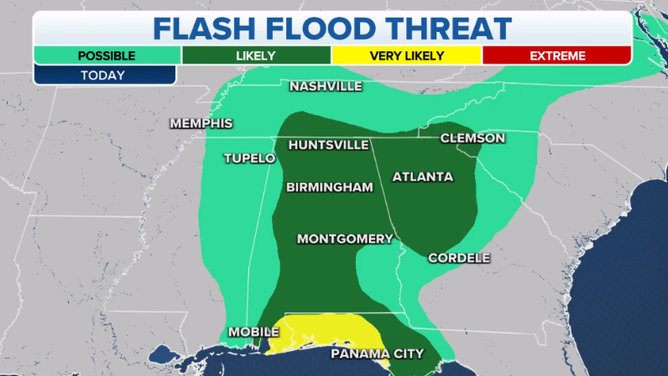 Another moderate risk of excessive rainfall is in place Wednesday from northeastern Alabama into North Georgia. A slight risk has been hoisted for other portions of the Southeast and southern Appalachians.
Two-day rainfall totals will be approaching 4 to 6 inches in this region by Wednesday, so it won't take much additional rain to trigger renewed flash flooding.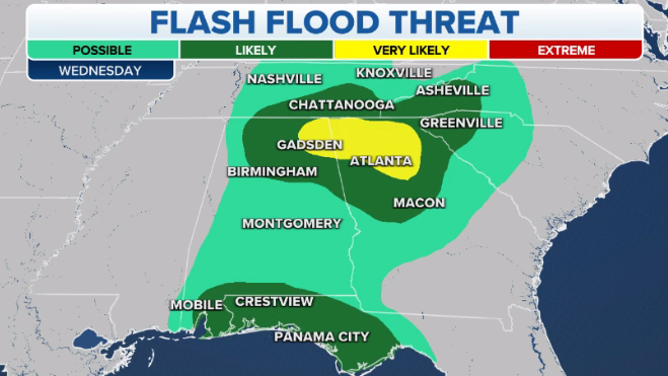 On Thursday, parts of the Southeast and southern Appalachians are again highlighted in the WPC's excessive rainfall outlook. For now, a slight risk is in place from far northeastern Alabama to southwestern North Carolina.
There will continue to be a steady influx of Gulf of Mexico moisture along the stalled front, so additional heavy rain is expected Thursday. The highest rainfall amounts will remain over the same hard-hit areas, likely resulting in more flash flooding in the Southeast.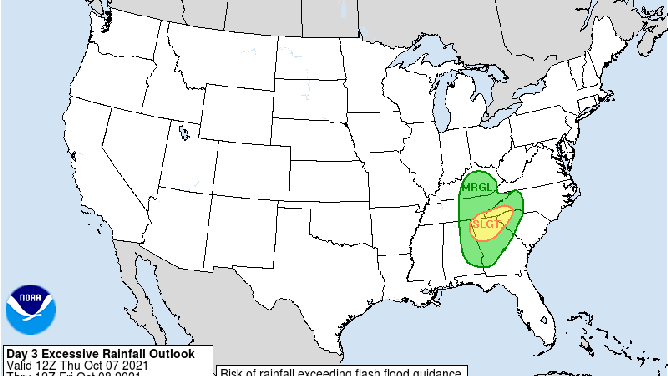 The heaviest rain will finally shift eastward on Friday toward the coastal Southeast from the Carolinas to Florida. Rain is also expected farther north in parts of the mid-Atlantic and Ohio Valley.
High pressure will bring drier conditions to most of the Southeast this weekend, though a few showers might linger near the coast.