Tornadoes and severe thunderstorms move across Southeast
Millions of Americans at risk for experiencing severe weather on Sunday
The South faced another day of severe thunderstorms and tornadoes on Sunday.
A tornado touched down in DeFuniak Springs, Florida on Sunday afternoon according to preliminary reports from the National Weather Service.
The Walton County Sheriff reported damage to several homes but no injuries.  The twister also downed trees and overturned a camper.
 Another potential tornado damaged a home and took down power lines in Wilcox, Georgia. Survey crews will head to Wilcox Monday as well as Vidalia, Georgia to determine if damage was from a tornado.  A Vidalia fire station was destroyed and several homes were damaged per the NWS.
Emergency managers said thunderstorm winds knocked several trees into power lines and blew a roof off an outbuilding in Wilkinson County, Georgia.
Winds also snapped a power pole in two and sent it into a car in Dothan, Alabama. And, traffic lights were out for a while after a tree fell on power lines in Albany, Georgia.
Severe weather is possible from the Gulf Coast into the Mid-Atlantic.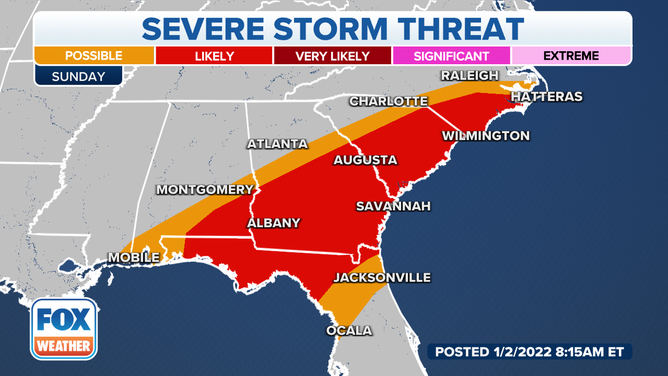 Locations under an enhanced risk for severe weather include Jacksonville, Florida, Albany, Savannah and Augusta, Georgia, and into parts of North Carolina, putting about 3.2 million Americans at risk.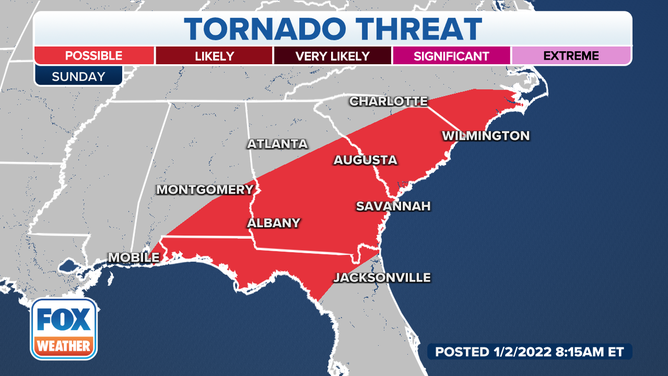 While some tornados are possible in the region Sunday, the main threats from these possible storms include strong winds and flash flooding.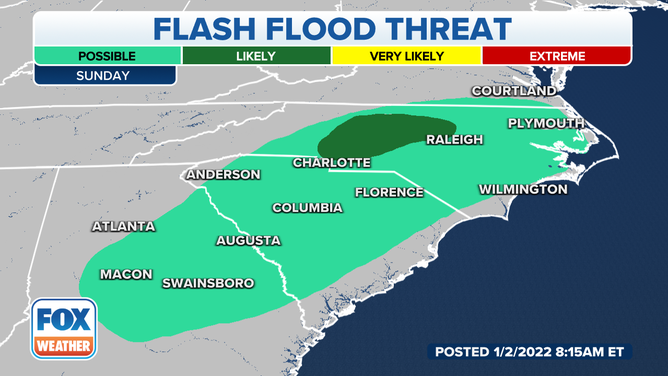 Most of North and South Carolina could see some flash flooding on Sunday because of the heavy rain, but areas of interior North Carolina will likely see a higher risk of flooding in places where heavier rain develops.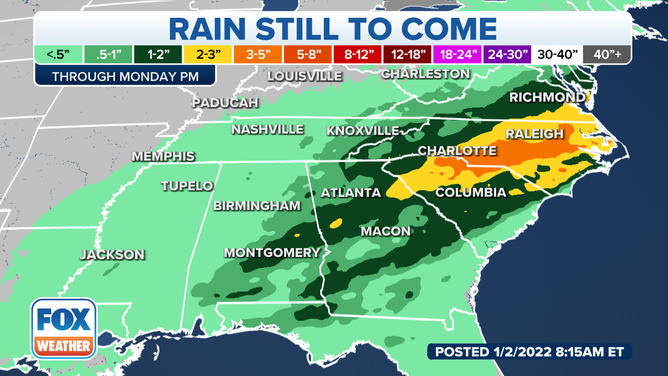 Parts of northern South Carolina and eastern North Carolina, including Raleigh and Charlotte, could pick up several inches of rain through Monday. Those cities could pick up anywhere between 3-5 inches of rain with some locally higher amounts possible.
The rest of eastern North Carolina and northwestern South Carolina could also pick up several inches of rain.
Further south, a general 1-2 inches of rain is likely in Georgia and parts of eastern Alabama.