Heavy rain, flash flooding prompt water rescues in Philadelphia metro area Thursday
Flash Flood Warnings are in effect until Thursday evening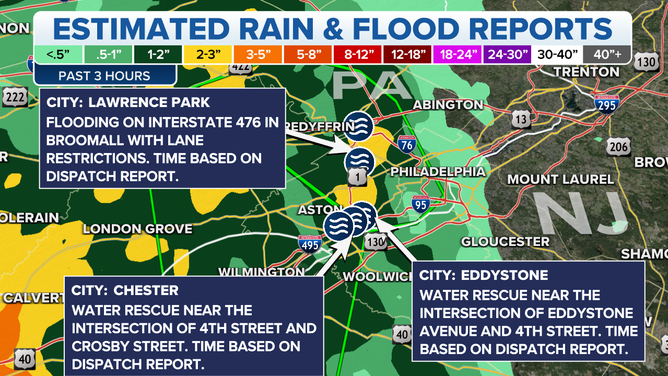 A line of heavy rain and thunderstorms moved through southeastern Pennsylvania early Thursday afternoon, triggering flash flooding and prompting water rescues in the Philadelphia metro area.
Observations from Philadelphia International Airport indicated 0.65 inches of rain fell in just 10 minutes between 1:16 and 1:26 p.m. Thursday. By 2 p.m., 1.02 inches of rain had fallen in the past hour.
Two separate Flash Flood Warnings are in effect for parts of the Philly metro area, one until 4:30 p.m. and the other until 6 p.m.
The National Weather Service said that water rescues were ongoing in southeastern Pennsylvania, including in Chester, Darby Township, Eddystone, Morton and Upper Darby.
Flash flooding was also reported on the Vine Street Expressway (Interstate 676) in Center City, Philadelphia, Interstate 95 at the Broad Street exit in South Philadelphia and on the Northeast Extension of the Pennsylvania Turnpike (Interstate 476) in Broomall, Pennsylvania, according to the NWS. Lane restrictions were in place on these highways due to the flooding.
Video shared on social media showed a flooded Prospect Park in Delaware County, Pennsylvania, where more than 2 inches of rain fell in only two to three hours.