Heavy rain, flash flooding threat continues in Plains, Midwest through Saturday
A Flash Flood Watch has been issued in South Texas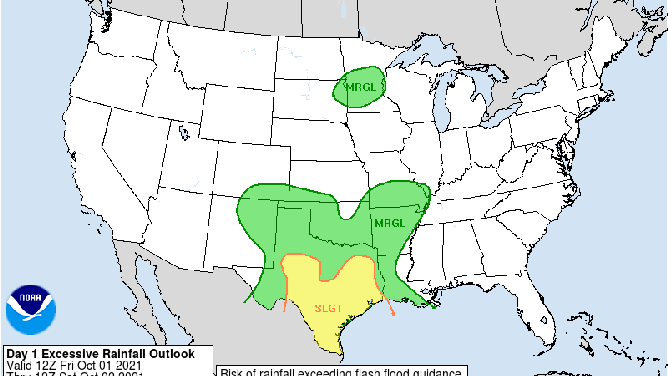 A slow-moving cold front will be the focus for additional heavy rain Friday and Saturday across parts of the Plains and Midwest.
NOAA's Weather Prediction Center has highlighted portions of Texas for a slight risk (level 2 out of 4) of excessive rainfall through Friday night. A marginal risk (level 1 out of 4) of excessive rainfall is in place from the Southern Plains and High Plains to the lower and mid-Mississippi Valley, as well as in Minnesota and eastern South Dakota.
The WPC said multiple rounds of showers and thunderstorms are possible again Friday across the Southern Plains and High Plains, the same areas that saw heavy rain on Thursday. Rainfall rates could exceed 1.5 inches per hour at times.
Widespread rain totals of 1 to 3 inches, with locally higher amounts, are possible through Friday night in this region, which could result in areas of flash flooding.
The National Weather Service has issued a Flash Flood Watch for parts of South Texas until 10 p.m. Central time Friday evening.
A separate area of heavy rain is likely on Friday from eastern South Dakota into Minnesota, where rainfall rates could climb above 1 inch per hour. Some flash flooding is possible in this area as well.
The heavy rain threat will continue on Saturday from the Central and Southern Plains to the mid-Mississippi and lower Ohio valleys. The WPC has highlighted these regions for a marginal risk (level 1 out of 4) of excessive rainfall Saturday through Saturday night.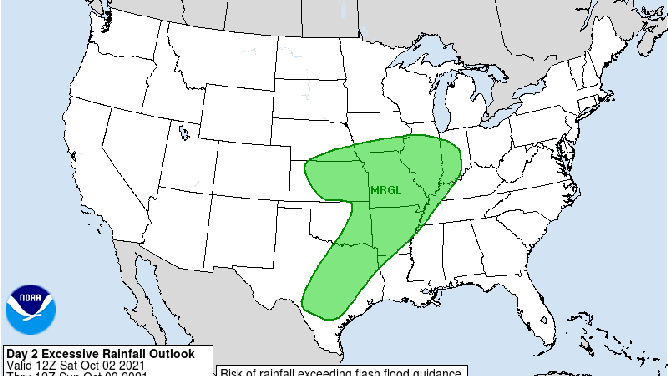 The cold front will focus widespread showers and thunderstorms across this part of the country on Saturday. Rainfall totals are expected to reach 1 to 2 inches, with 
locally higher amounts possible.
Given the dry conditions of late, widespread flooding issues are not likely on Saturday, but any back-building storms could lead to localized flash flooding.
This storm system will advance eastward starting Sunday, leading to widespread showers and thunderstorms for the eastern U.S. early next week. Several inches of rain are expected east of the Mississippi River.