Heavy rain concerns in Southern Plains as cold front pushes through region
As much as 1 to 2 inches of rain is predicted to fall across a large chunk of Texas
HOUSTON – A stationary front will remain the focal point for showers and storms in the Southern Plains.
A cold front and upper-level disturbance will bring showers and isolated thunderstorms Wednesday into Thursday morning, the National Weather Service in Austin/San Antonio said. Rainfall coverage is expected to increase throughout the rest of the day Wednesday as the cold front pushes through the region.
Wednesday morning, most of the action in central portions of Texas will move into North Texas, but this is all pushing to the east. Places like Houston into Beaumont, Texas, will see rainy weather as we head toward midday and into the afternoon hours.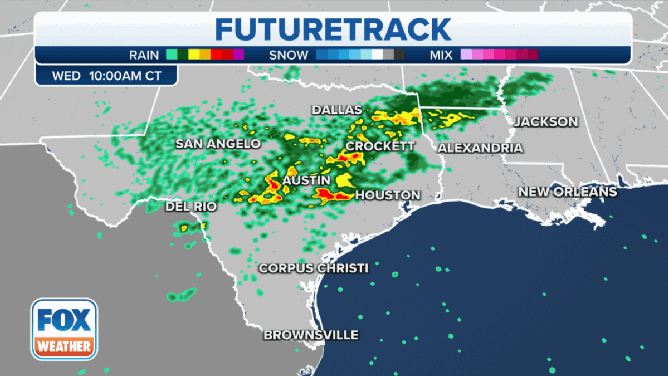 Numerous showers and scattered thunderstorms in San Angelo, Eden and Brady, Texas, will contain heavy rain and occasional to frequent lightning, the NWS said.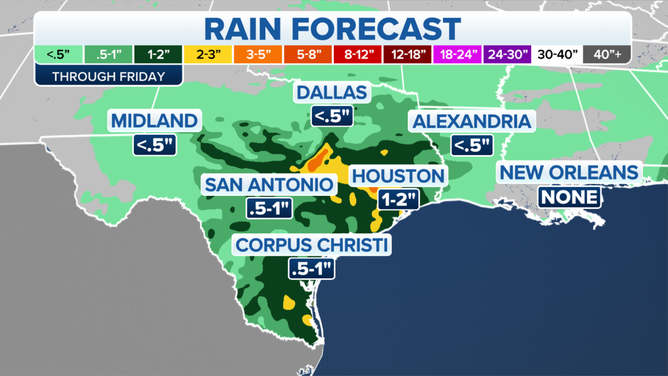 As much as 1 to 2 inches of rain is predicted to fall across a large chunk of Texas. Flash flooding could be a problem for southeastern Texas, especially around the Houston metro area. Spots around San Angelo into western portions of southeastern Texas could easily pick up 3 to 4 inches of rain.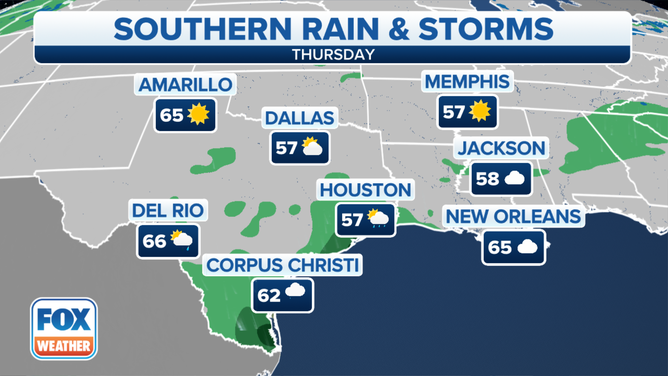 Temperatures will fall in the wake of the frontal passage, and chilly temperatures are expected Thursday due to gusty northerly winds under lingering cloudiness. Friday will remain quite cool, and then a warming trend is expected this weekend.